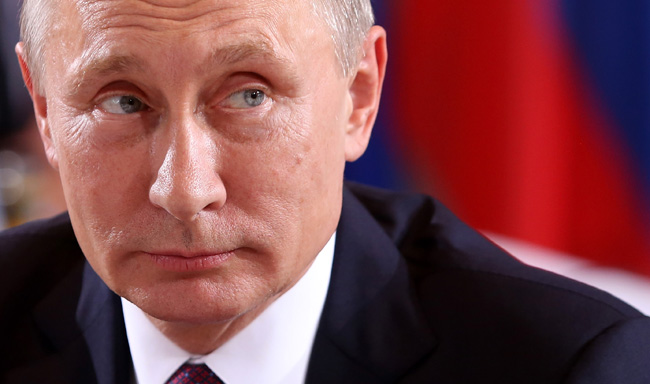 Following a week in which U.S. intelligence agencies suggested they'd found "conclusive" evidence of Russia's involvement in hacking the Democratic National Committee's emails, and Donald Trump's repeated efforts to downplay such claims, the declassified intel report has arrived. The New York Times, CNN and countless other news agencies have skimmed through all 25 pages of the official document, which blatantly indicates Russian President Vladimir Putin "ordered an influence campaign" with the sole purpose of disrupting the 2016 presidential election. That, and satisfying a grudge against Hillary Clinton.
As the NYT notes, the "damning and surprisingly detailed account of Russia's efforts to undermine the American electoral system" was ordered by President Barack Obama in December. The results made public on Friday are, per CNN, the "first official, full and public accounting" of the ongoing DNC hacking scandal and its supposedly negative effects on the outcome of the election:
We assess Russian President Vladimir Putin ordered an influence campaign in 2016 aimed at the US presidential election. Russia's goals were to undermine public faith in the US democratic process, denigrate Secretary Clinton, and harm her electability and potential presidency. We further assess Putin and the Russian Government developed a clear preference for President-elect Trump.

Yet as a previous report leaked in mid December revealed, Russia's involvement in the affair wasn't just about elevating Trump. It had far more to do with dragging the Democratic presidential nominee, Clinton through the proverbial mud. Why? Because, as Friday's declassified assessment suggests, Putin was so unhappy with Clinton purportedly inciting mass protests against his government in 2011:
Putin most likely wanted to discredit Secretary Clinton because he has publicly blamed her since 2011 for inciting mass protests against his regime in late 2011 and early 2012, and because he holds a grudge for comments he almost certainly saw as disparaging him.
At the time, Putin told a gathering of the All-Russia People's Front "[opposition leaders] heard the signal and with the support of the US state department began active work." During a subsequent visit to Brussels, then secretary of state Clinton tied Putin's presidential ambitions — especially those against his detractors — to human rights violations: "Human rights is part of who we are, and we expressed concerns that we thought were well founded about the conduct of the elections."
While the official report discusses these and other key assessments regarding Putin's allegedly ordering his government to influence the election, it never explains in detail any evidence saying as much. After all, when discussing the Russian president's motives for targeting Clinton specifically, the report cautions they were "most likely" the case.
(Via New York Times, CNN and The Guardian)