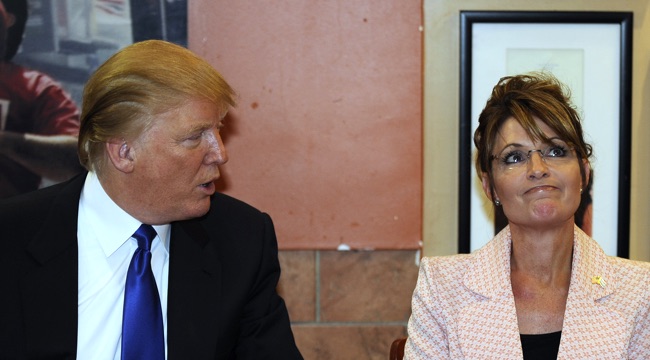 On Monday evening, loud whispers indicated that Sarah Palin would be Donald Trump's special guest in Iowa on Tuesday. At the very least, political junkies expected the two to present a united front with plenty of hints for a future combined ticket. Trump-Palin 2016 may very well happen, which would be a logical progression. Trump has expressed "love" for her beliefs and communicated how she'd fit nicely into his (apocalyptic) administration. Likewise, Palin called Trump her "hero." She also spent last November hinting that God would probably like her to run for office again.
Palin woke up bright and early to do a little Ted Cruz bashing before the big event. This warmed her up nicely for the main attraction of the day, which was to formally endorse Trump for president:
"I'm proud to endorse Donald J. Trump for president," Ms. Palin said in a statement provided by his campaign. Her support is the highest-profile backing for a Republican contender so far.

"I am greatly honored to receive Sarah's endorsement," Mr. Trump said in a statement trumpeting Mrs. Palin's decision. "She is a friend, and a high-quality person whom I have great respect for. I am proud to have her support."
There you have it, folks, and this is only the tip of the you-betcha iceberg. Should Trump secure the nomination, Palin is the only candidate for him. They'd get along fabulously, and well, this will be fun to watch. For the record, Palin has also dropped 43 other endorsements this year (for various Senate and U.S. House candidates). This time, she really means it. Buckle up, my fellow Americans.
In related news, Palin's 26-year-old son, Track, was charged with assault on Tuesday. He'll also be arraigned on charges of domestic violence and possessing a weapon while intoxicated. Those Palins are always getting into a ruckus. The timing seems unfortunate, but so do the charges themselves.
(Via New York Times)