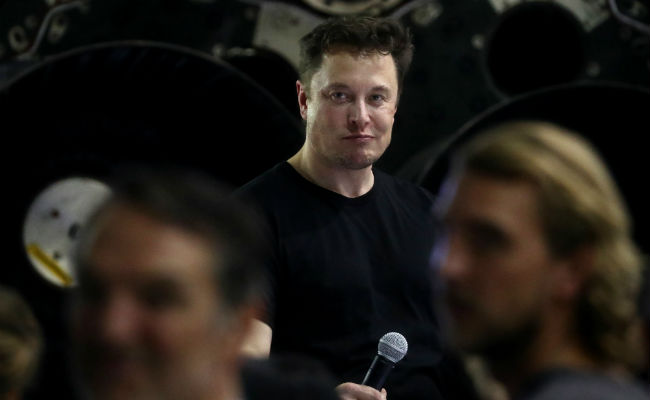 Elon Musk may be the latest person to learn that you should never tweet. The South African entrepreneur may be in legal trouble over a social media post, the latest skirmish in what's been a weird year for the Tesla and SpaceX founder.
The Securities and Exchange Commission announced on Thursday that it's suing Musk over a recent tweet where he claimed to have secured financing to take Tesla private. The SEC held a press conference where it charged Musk with fraud and announced it would seek to prevent him from serving as an executive or director of a publicly traded company. Tesla is, of course, a publicly-traded company.
The whole ordeal is, strangely enough, over a tweet Musk sent out in which he claimed he had "secured" funding to help take Tesla private, with him still in control of the company.
But according to the New York Times, the S.E.C. alleges that was a "reckless" attempt to mislead the public about the state of the company. Here's the tweet in question, which was still up as of the S.E.C.'s New York filings on Thursday.
Musk reportedly sent that out while "driving" himself to the airport in a Tesla Model S. But Tesla's board was apparently blindsided by that news, and the S.E.C. launched an investigation into the matter. The Times has more information about the suit, including the exact phrasing the S.E.C. uses to describe the tweet and its impact on public perception of Tesla as well as Musk's response.
The S.E.C. said Mr. Musk "knew or was reckless in not knowing" that his statements were false or misleading. "In truth and in fact, Musk had not even discussed, much less confirmed, key deal terms, including price, with any potential funding source," the S.E.C. said in its lawsuit.

In a statement distributed by Tesla, Mr. Musk said: "This unjustified action by the S.E.C. leaves me deeply saddened and disappointed. I have always taken action in the best interests of truth, transparency and investors. Integrity is the most important value in my life and the facts will show I never compromised this in any way."

Mr. Musk, who sometimes sleeps on Tesla's factory floor as he works to iron out production problems, is widely regarded by analysts and investors as the creative engine behind Tesla. The company's shares tumbled more than 10 percent in after-hours trading after the S.E.C. filed its lawsuit.
The suit claims that Musk, in essence, "knew that he had never discussed a going-private transaction at $420 per share with any potential funding source." He had not approached any banks or financial institutions about actually taking Tesla private. It was just something he, well, tweeted out.
That tweet changed the perception of the company in the eyes of the public, though, as many assumed he had actually done what he said. Musk is a person who absentmindedly tweeted about tunnel boring machines and starting a company to do exactly that. He later went ahead and did it. So there's some history here in him actually tweeting news. Which is why if he isn't actually taking Tesla private, and had not put in any of the legwork to do so, the S.E.C. says that misleading tweet is classified as fraud.
Perhaps Musk will hop on a podcast and get blazed to talk his way through this legal issue, but it's probably best that he be more careful what he tweets from now on. There are consequences to what you post online. Even if you're a billionaire.
(via New York Times)