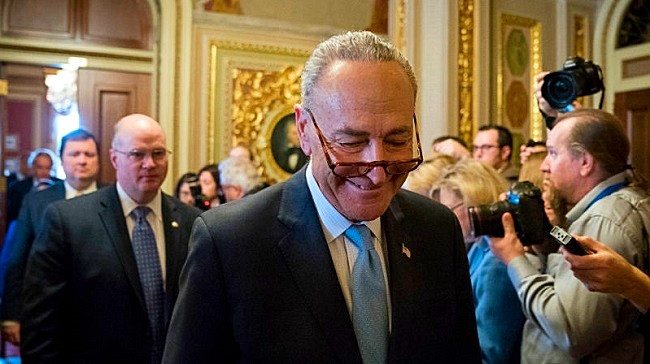 The current government shutdown may have prevented President Trump from attending a celebration in his honor held at Mar-a-Lago, but Democratic and Republican lawmakers worked through the weekend to achieve a temporary compromise by Monday. According to CNN, Senate Minority Leader Chuck Schumer (D-NY) announced during a midday address that leaders from both major parties agreed to end the shutdown and reopen the government at least through February 8th. "We will vote today to reopen the government," Schumer told his fellow senators (while firing shots at Trump), and that's precisely what his fellow Democrats largely did.
Politico reports the Senate voted 81 to 18 to push its own bill through and thereby reopen the government. A significant reason for Schumer and his party's sudden about-face? Senate Majority Leader Mitch McConnell's (R-Kentucky) promise to "negotiate on immigration" in the coming weeks:
"The process will be neutral and fair to all sides," Schumer said. "We expect that a bipartisan bill on [the Deferred Action for Childhood Arrivals program] will receive fair consideration and an up-or-down vote on the floor."
Whether or not McConnell makes good on his promise to allow a vote on immigration in the near future remains to be seen. As for the Senate's vote to temporarily avert the current shutdown, the House is expected to pass its version of the same government funding bill shortly. Afterwards, President Trump is expected to sign the the combined bill into law and reopen day-to-day operations until early February.