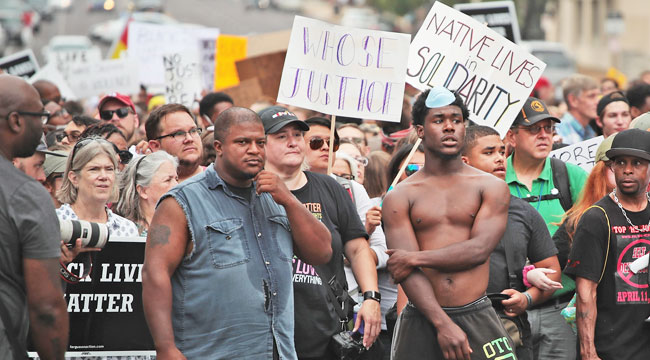 A weekend of protests went down in St. Louis after ex-cop Jason Stockley, who shot Anthony Lamar Smith five times at point blank range (in 2011), was found "not guilty" in his murder trial. The resulting protests, including a "die-in" demonstration outside the courthouse, have largely been peaceful (although they did prompt some cancelled concerts for safety concerns). The third night, however, brought increased violence and dozens of arrests.
The St. Louis Police Department told ABC News that 80 people were arrested on Sunday (in addition to the 32 arrested on Friday and Saturday for blocking highway entrances and damaging property). During a Monday morning briefing, St. Louis Interim Police Chief Lawrence O'Toole told reporters that the demonstrations were "no longer peaceful," and someone had thrown an "unidentified chemical" onto officers. Further, one officer sustained a non-life-threatening leg injury (after a protester hurled an object), and O'Toole said the department would maintain control of the city:
"People setting out do damage are being arrested and these criminals we've arrested should be held accountable and prosecuted to the fullest extent of the law. We're in control. This is our city and we're going to protect it."
On Sunday night, the St. Louis Police Department tweeted a photo of "confiscate[d] weapons, guns, protective gear from a rioter."
St. Louis Today reports that the city expects a fourth day of protests. Those who march continue to point toward Stockley getting off the hook for self-defense despite planting evidence against Smith in his vehicle.
(Via ABC News & St. Louis Today)