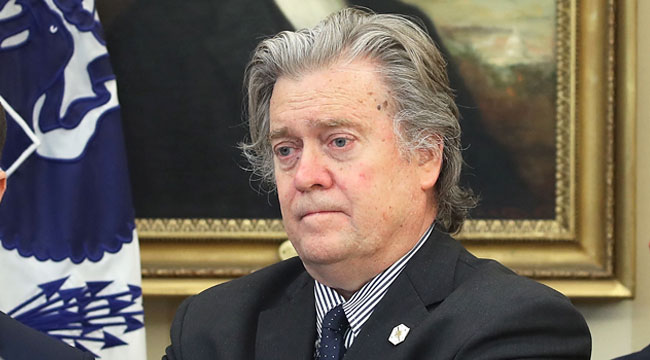 Steve Bannon has decided to stop being real and start playing nice. The former White House chief strategist blabbed plenty in Michael Wolff's new book, in which he called the infamous Trump Tower-Russia meeting "treasonous" and added, "They're doing to crack Don Jr. like an egg." This led President Trump to not only give Bannon a delightful nickname, Sloppy Steve, but his attorneys sent a cease and desist letter to Bannon (for his "disparaging" remarks, especially about Don Jr.), and Bannon sort-of apologized by calling POTUS a "great man." Several days later, the threat of legal action may be working because Bannon has issued a fawning, extended apology.
Indeed, Trump's getting exactly what he wants because Bannon tells Axios that Don Jr. Is "both a patriot and a good man," who has been "relentless" while advocating for President Trump and "the agenda that has helped turn our country around." Bannon also voices "unwavering" support for POTUS and insists that he's done so on Breitbart and his SiriusXM program. Here comes an even more (fittingly) sloppy serving (with a bonus mention of the right-wing Uranium One conspiracy theory) of propaganda from Bannon, who now insists that he wasn't talking about Don Jr. at all:
"President Trump was the only candidate that could have taken on and defeated the Clinton apparatus. I am the only person to date to conduct a global effort to preach the message of Trump and Trumpism; and remain ready to stand in the breech for this president's efforts to make America great again.

"My comments about the meeting with Russian nationals came from my life experiences as a Naval officer stationed aboard a destroyer whose main mission was to hunt Soviet submarines to my time at the Pentagon during the Reagan years when our focus was the defeat of 'the evil empire' and to making films about Reagan's war against the Soviets and Hillary Clinton's involvement in selling uranium to them."
Then Bannon — for the first time after almost a week of letting the "treason" comments reverberate around Don Jr. — insists that he was talking about the already indicted Paul Manafort, who was also in attendance at the Trump Tower meeting. And kinda unbelievably, Bannon adds that he strongly believes that there was "no collusion" between the Trump campaign and Russia, despite how Don Jr. released his own emails that showed how excited he was over the promise of Russian-delivered dirt on Hillary Clinton. Yet Bannon expresses "regret" over his delay in issuing what he treats as a mere clarification.
It sounds like Bannon had enough of legal threats, being accused of losing his mind, and even having Alex Jones turn on him while slamming his appearance as evidence of "organ failure" and being "run over by a truck with dandruff all over him." Not incidentally, 2018 is growing no less bonkers than 2017.
(Via Axios)