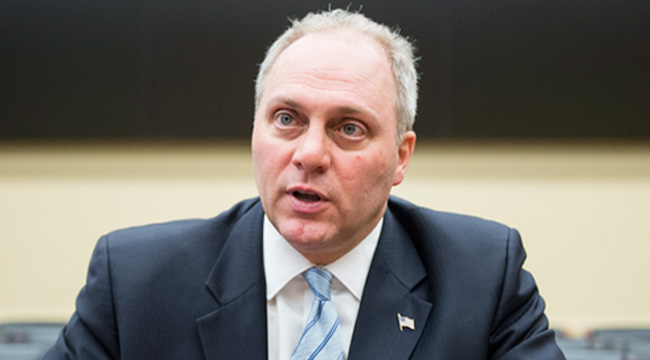 House Majority Whip Steve Scalise (R-LA) was one of four victims shot by James T. Hodgkinson during Congressional baseball practice for a charity game. Upon reaching the hospital, he was immediately rushed into surgery (due to being shot in the hip) and was said to be in "good spirits." However, MedStar Washington Hospital Center has revealed that Scalise's condition was (and is) much more precarious than previously reported.
Along with Matt Mika, a former congressional staffer and current Tyson Foods lobbyist, Scalise remains in critical condition. In addition to the first surgery and an additional procedure (to halt his bleeding), Scalise will have to undergo multiple additional surgeries due to internal organ damage. In other words, he's not on the upswing, via the hospital's statement:
"Congressman Steve Scalise sustained a single rifle shot to the left hip. The bullet traveled across his pelvis, fracturing bones, injuring internal organs, and causing severe bleeding. He underwent immediate surgery, and an additional procedure to stop bleeding. He has received multiple units of blood transfusion. His condition is critical, and he will require additional operations. We will provide periodic updates."
President Trump (who has so far managed not to politicize this horrific attack, unlike his usual approach to tragic news) visited Scalise at the hospital and says he's in "tough shape" with a long road ahead.
(Via CNN)