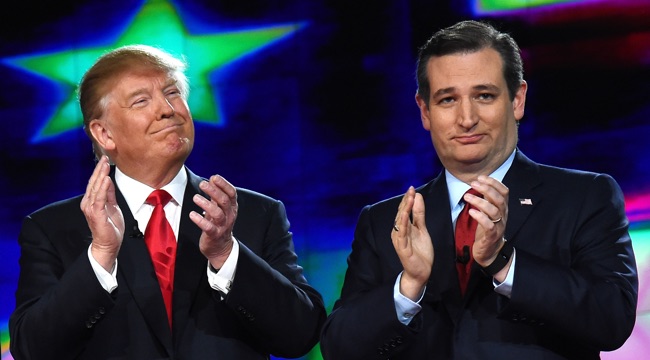 Note: We will provide live results as they happen at the bottom of this post.
Only a few days after Super Tuesday, Super Saturday has arrived. In between these two semi-dignified events, we saw a ridiculous Fox News GOP debate, which largely ignored the issues and revolved around penis references, but at least Megyn Kelly owned her job. The whole debate played much like a Shakespearean farce. It also seems that one candidate may have arrived with too much confidence after some Rupert Murdoch tweets hinted that the media titan could throw support his way. Hmmmm.
This Saturday, five states — Kansas, Kentucky, Lousiana, Maine, and Nebraska — will throw down their primary and caucus results, and Donald Trump and Hillary Clinton seek to widen their leads. However, Bernie Sanders is still very much in the game, and Ted Cruz could take some states as well. As for Marco Rubio, he canceled his Louisiana appearances either due to illness (hence his fist bumping at the debate) or single-digit polling numbers. Rubio's already turned his attentions to his home state of Florida. His March 15 judgment day will see him try to take the winner-take-all state, but Trump is rallying hard in Florida as well. And John Kasich is (somehow) still in the race, for he's hoping to sweep Ohio on March 15th too.

Stay tuned for this long Saturday evening. Kansas results will start rolling in at 4pm EST, but Nebraska won't be finished caucusing until 9p EST. We'll provide updates as long as they roll into town.
Democrat State Wins Before Super Saturday
Clinton (10 States): Alabama, Arkansas, Georgia, Iowa, Massachusetts, Nevada, South Carolina, Tennessee, Texas, and Virginia.
Sanders (5 States): Colorado, Minnesota, New Hampshire, Oklahoma, Vermont
GOP State Wins Before Super Saturday
Trump (10 States): Alabama, Arkansas, Georgia, Massachusetts, Nevada, New Hampshire, South Carolina, Tennessee, Vermont, Virginia
Cruz (4 States): Alaska, Iowa, Texas, Oklahoma
Rubio (1 State): Minnesota
Delegates Needed For A Party Nomination
Democrats: 2383 (Clinton has 1081 before Super Saturday. Sanders follows with 433. Clinton's count includes hundreds of superdelegates.)
GOP: 1237 (Trump has 336 before Super Saturday. Cruz followed with 255, Rubio with 113, and Kasich with 25.)
Here we go with the Saturday results. Thanks for joining us for the ride.
Kansas Caucus
Democrats: Sanders (67%) sweeps this state over Clinton (32%).
GOP: Cruz (48%) pulls a surprise landslide; Trump (23%) and Rubio (17%) follow.
Kentucky Caucus
GOP: Trump (35%) wins with Cruz (31%) coming in second; Rubio lands third (16%).
Louisiana Primary
Democrats: Clinton (69%) rises victorious over Sanders (23%).
GOP: Trump (42%) wins over Cruz (38%) and Rubio (11%).
Maine Caucus
GOP: Cruz (46%) wins over Trump (33%) and Kasich (12%).