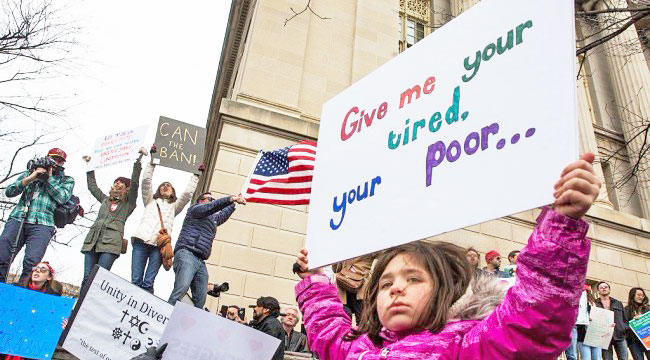 Back in December 2017, the Supreme Court ruled that President Trump's third travel ban could go into effect while it faces legal challenges in lower courts. A couple weeks later, the U.S. Court of Appeals ruled — again — that the ban was illegal. The Supreme Court is now preparing to hear a challenge to the ban, in a case called Trump v. Hawaii, meaning the issue may finally be decided after a year or protests, edits, and reversals in the courts.
The ban, which the administration claims is necessary for national security, has repeatedly been rejected for primarily targeting people from Muslim countries with little or no history of terrorist acts committed against the U.S. Yet challengers of the ban maintain that Trump has exceeded his constitutional authority, via the New York Times:
The appeals court ruled that Mr. Trump had exceeded the authority Congress had given him over immigration and had violated a part of the immigration laws barring discrimination in the issuance of visas.

In his brief urging the Supreme Court to hear the case, Solicitor General Noel J. Francisco wrote that the president has vast constitutional and statutory authority over immigration. He added that the third order had been the result of "an extensive, worldwide review by multiple government agencies."
The Supreme Court is expected to hear the case in the spring and issue its decision in June, despite an already-overcrowded docket of high-profile cases. In other words, 2018 will be another controversial one, but many folks expected no less.
(Via New York Times)