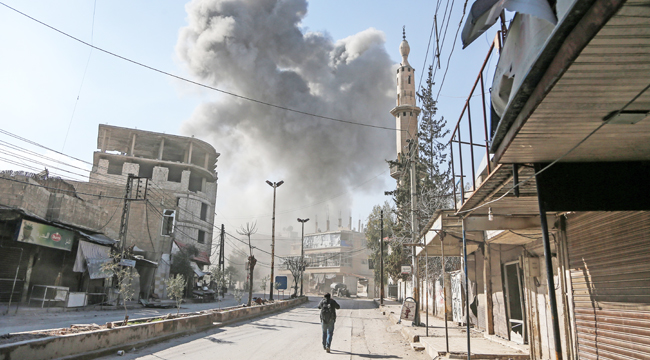 The Syrian Civil War has claimed nearly half a million lives since its 2011 inception, and this week has brought fresh horrors in a rebel-held area near Damascus in Eastern Ghouta. On Tuesday, it was reported that air strikes led by President Bashar al-Assad had already killed 100 (including 20 children), and the U.N. issued a symbolic condemnation (that was mostly blank) as a comment on the shocking nature of these atrocities. One day later, the death tally from hundreds of rockets and barrel bombs shows no signs of slowing.
The BBC is now describing the Ghouta situation as "catastrophic," and The Guardian reports that the past 48 hours have seen a death tally of at least 250 civilians (with 1,200 more being injured) in one of the "most intense" attacks of the civil war so far:
"Just a cup of water or a piece of bread may cost a man his life because he is under attack from missiles," said Dr Fayez Orabi, one of the doctors in East Ghouta. "They cannot get out of their shelters."

The attacks have killed over 250 civilians, including at least two dozen on Wednesday morning, the UK-based Syrian Observatory for Human Rights said. More than 1,200 others have been injured, a toll people on the ground say has been exacerbated by attacks on hospitals, clinics and ambulances.
Indeed, Reuters describes how Ghouta residents can do virtually nothing but "wait to die" as bombs continue to pepper the heavily populated area. These pro-government attacks are likely backed, as usual, by Russian forces, but there's been no statement from President Assad regarding the fresh strikes. And there likely won't be an official statement either, for Assad insisted that his regime's 2017 chemical attack on civilians was fake news, which is his general response when pressed upon his government's brutal treatment of civilians.
(Via BBC, The Guardian & Reuters)