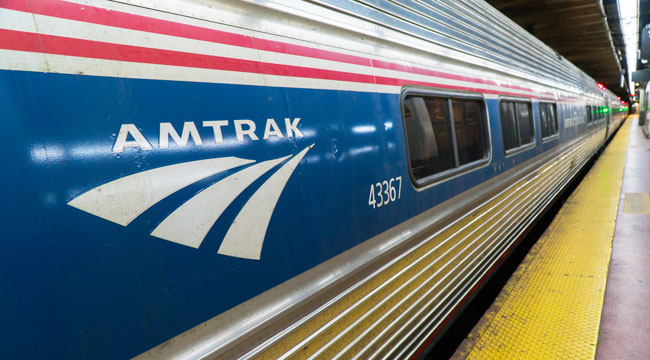 Wednesday morning, an Amtrak train carrying members of Congress to a GOP retreat in West Virginia collided with a truck near Charlottesville, Virginia. According to Politico's initial report, no serious injuries were reported on both the train and the truck, though the truck driver's actual status could not be immediately determined. Soon after, however, Charlottesville's NBC affiliate WVIR reported a nurse on the scene said there was "at least one fatality and at least one in critical condition." As for the Republican congressmen and women who were on board the train, many — including Speaker Paul Ryan — were reported as being okay.
According to CNN, one of Ryan's aides confirmed he "was on the train and is fine." Others, like Rep. John Faso (R-New York), told the outlet he thought "everyone on the train is OK," but "[didn't] know that for sure, it's a long train. But most of the concern is for the people outside." Faso described the truck as "a tractor trailer carrying trash that was hit by the train." Meanwhile, Rep. Greg Walden (R-Oregon) posted a photo of the scene on Twitter, as did many other politicians and reporters who were there.
On the heels of WVIR's report that at least one person had died, the Washington Post caught up with outgoing Sen. Jeff Flake (R-Arizona), who confirmed the report with his own account. He told the paper's Ed O'Keefe that three people were in the truck, including the deceased individual. The other two were seriously injured: "He and other lawmakers helped carry one of the injured truck passengers to an ambulance with local medical personnel."

UPDATE #1 – 12:20pm EST: During an on-air report, MSNBC says that CPR was administered to the train's conductor.
UPDATE #2 – 12:40pn EST: Sen. Bill Cassidy (R-Louisiana), also a physician, tweeted additional details about the three truck passengers and their respective conditions. "One is dead. One I am told is being transported but has minor injuries. One has serious injuries," he wrote. Cassidy and his wife Laura, also a doctor, and "multiple other physicians" on board the train "tended to the patients until EMTs showed up."
(Via CNN, Politico, WVIR-TV and Washington Post)