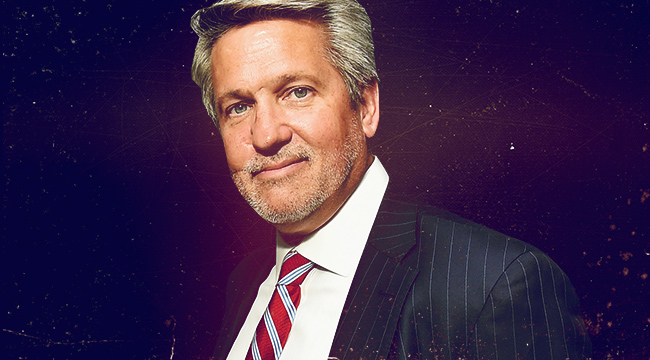 It's no secret that cable news has had a profound impact on President Trump and his administration, or that the President trusts his TV above most other sources of information, and especially Fox News. Now, he might be contemplating inviting Fox News alum Bill Shine to step out of the set and into the White House. Could the former Fox co-president be the next member of Trump's wildly fluctuating communications team?
Shine left the influential conservative news station after the Roger Ailes lawsuit implicated Shine in turning a blind eye to Ailes' harassment of female employees. A petition circulated calling for Shine to be fired, and he departed soon after. But he stayed close with both Ailes (now deceased) and Fox News personality Sean Hannity. Hannity, Shine, and the Trump family recently dined together at the White House, and now rumors are circulating that could be where Shine lands after his tenure with Fox. However, the staffers who leaked the discussions Trump has had with Shine hinted that he might be hampered by his relationship with Anthony Scaramucci.
On the other hand, though, it makes sense Trump would consider a media veteran given his contentious relationship with the press. Having an inside man who is deeply familiar with the news industry might give the President peace of mind. After all, Trump considers Fox to be one of the few press allies he has, and Fox has already been deeply influential to this Presidency. There was that erroneous claim that Sweden was under attack by refugees in February, fueled by a Fox News story. And then there are all the reports of Trump's voracious TV consumption habits and preferred method of stress relief — yelling at his television set. Oh, and the allegation that Trump himself might have had a hand in Fox's debunked Seth Rich Conspiracy theory.
It remains to be seen if Shine will actually be tapped for a position, but it's interesting that the cat is out of the bag. Scaramucci predicted Reince Priebus might leak the news about Shine during the rambling, and profanity-studded, remarks made just before he was let go. That could mean that the White House wanted the possibility of Shine to get out and hoped this would add to Reince Priebus' baggage. Or it could be a coincidence. Either way, leaks are part and parcel part of the White House's communication stream whether they like it or not. That's a problem that will land on Shine's desk, or whoever Trump ultimately decides to add to the team.
(Via New York Times)