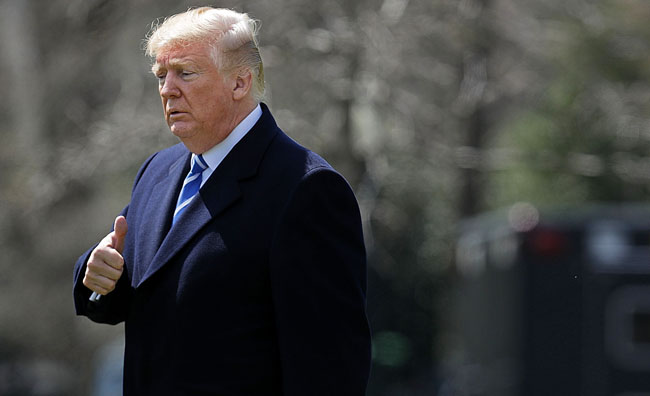 In case you haven't gathered, Donald Trump really, really dislikes Amazon. Against one of his favorite targets from early on into his political career, the president continues, time and time again, to make false statements that the company does not pay sales tax and is ripping off the United States Postal Service — which he also continues to incorrectly refer to as the "U.S. Post Office."
In light of his increased attacks on Amazon over the course of the past week or so, the Wall Street Journal dug into Trump's beef with the online giant. Unsurprisingly, they found that the president's axe to grind reportedly has less to do with the online retailer and more to do with its Chief Executive Officer Jeff Bezos, who also owns The Washington Post. The Post also just happens to be one of the many new outlets Trump dismisses as "fake news."
What's more, once White House officials caught wind of Trump's grumblings soon after he took office — including his since-departed top economic adviser Gary Cohn — they tried to intervene with PowerPoint presentations and briefing papers to educate the president. Suffice to say, he wasn't having it.
"It's not the narrative he wants," one person familiar with the matter said of the White House briefings. "He clearly didn't find it persuasive because he keeps saying it's untrue."
For what it's worth, Washington Post publisher Frederick J. Ryan Jr. stated in a piece this week that Mr. Bezos has "never proposed a story," "never intervened in a story," "never critiqued a story," and has not "directed or proposed editorials or endorsements."
Also worth noting that as Trump continued to fan the flames with Amazon and Bezos, he dined with Safra Catz, the co-CEO of Oracle, which is squaring off against Amazon to win a lucrative Pentagon contract.
(Via WSJ)