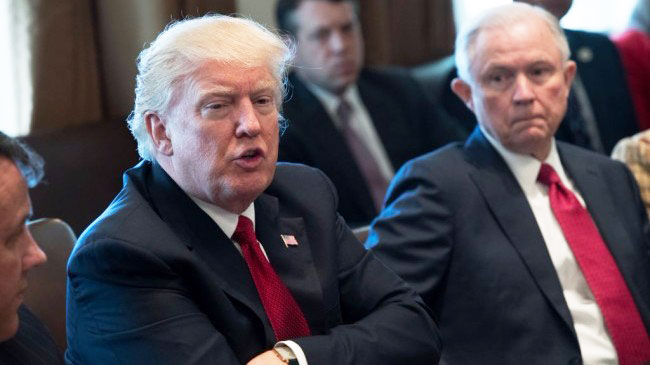 After many out-of-the-gate firings by President Trump, it's hard to believe that Attorney General Jeff Sessions is still standing. The president first grew dissatisfied with the former senator from Alabama and reportedly even pressured him to resign after Robert Mueller's appointment as special counsel for the Justice Department's Russia probe. Trump removed all doubt by publicly berating Sessions over his recusal, but everything seemed to cool down. Until now, that is, according to an Associated Press report that says Trump partially blames Sessions for Roy Moore's stunning loss in Alabama.
Indeed, even Democrat Doug Jones was surprised to beat (alleged pedophile) Moore in such a deep-red state, which is a huge testament to Steve Bannon's flawed strategy of putting up the most far-right candidates imaginable. The AP says that Trump also believes Sessions is at fault for giving up his Senate seat to join the Trump administration. Say what?
"The rift between Trump and Sessions still has not healed. Recently, Trump bemoaned the Republicans' loss in a special election in Alabama and in part blamed Sessions, whose departure from the Senate to head to Justice necessitated the election."
Of course, Sessions would have never given up his Senate seat if Trump hadn't appointed him as attorney general, but it's hard to imagine anyone pointing this out to Trump. Especially given how anyone who pushes back at the president, including Secretary of State Rex Tillerson and Senate Majority Leader Mitch McConnell, generally ends up being the next target.
However, it's worth remembering that immediately prior to the Alabama special election, a New York Times report suggested that the White House wanted to put Sessions back in his old seat to deal with Moore, but that's no longer an option for the frustrated Trump. Does this mean the odds of an involuntary Sessions exit have increased? Perhaps, unless another presidential distraction arrives first.
(Via Associated Press)