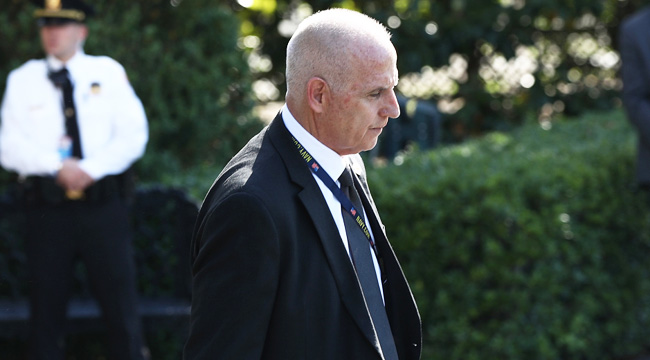 There have been a number of high-profile departures from the Trump administration since January, but Trump allies are reportedly worried about one man who's leaving — the president's former bodyguard, shoulder to cry on, and Director of Oval Office Operations Keith Schiller.
According to Bloomberg, Schiller is set to leave his White House job and return to the private security business, and President Trump is reportedly "crushed" that his former bodyguard, who has become one of his closest confidants in the last two decades, is leaving his post:
Multiple people interviewed described Schiller as an emotional anchor for the president in a White House often marked by turmoil. Schiller has worked for Trump for nearly two decades, and within the West Wing he serves as the president's protector, gate-keeper and wing man, according to people close to Schiller and Trump.
One source cited the mutual trust level between the two men as to why Schiller's departure upsets President Trump. Schiller is often the first and last White House employee the President sees every day and was also Trump's bearer of bad news after telling multiple people, including James Comey, that they were fired or re-assigned.
According to Bloomberg, because of the lower government pay and longer hours, Schiller planned to return to the private sector where he had risen to the head of security at the Trump Organization. However, the ascension of John Kelly to chief of staff may have accelerated Schiller's exit, for Kelly brought a measure of professionalism to White House operations that scuffed Schiller, who was no longer allowed into the Oval Office at any time, and now sees his job as redundant. Schiller also thinks that Kelly doesn't really like the president:
Schiller has told friends that working under Kelly is very different, and that he doesn't like the job as much. He has said he believes that Kelly doesn't like Trump personally and is serving as chief of staff predominantly out of a sense of duty to country, according to three people familiar with his views. That has been deeply demoralizing for Schiller, who is accustomed to Trump being surrounded by devoted employees, two people said.
Reportedly, with Schiller leaving, White House aides fear that Trump and Kelly will undoubtedly clash over how the Oval Office should operate.
(Via Bloomberg)