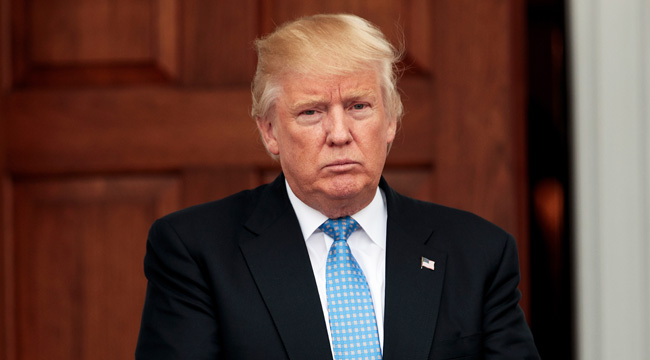 Donald Trump, ever the deal-making businessman, aims to slash many existing government programs, which should come as no surprise. Of course, recent focus has been on Congress' approval of a budget blueprint that would repeal Obamacare and replace it with a mystery entity. Meanwhile, the Trump transition team reportedly wants to reduce federal spending by $10.5 billion over a decade. These cuts could include the Justice Department's existing 25 grants for programs authorized by the Violence Against Women Act.
The Hill has dug into a proposed "skinny" budget that's being hammered out by key members of Trump's transition team. If the plan comes to fruition, several departments — including the Departments of Justice, State, Energy, Transportation, and Commerce — will see significant budget reductions or be altogether eliminated. The blueprint is said to be closely based upon last year's plan from a leading conservative think tank, the Heritage Foundation, and women's rights advocates see cause for alarm:
At the Department of Justice, the blueprint calls for eliminating the Office of Community Oriented Policing Services, Violence Against Women Grants and the Legal Services Corporation and for reducing funding for its Civil Rights and its Environment and Natural Resources divisions.
Here's a listing of all 25 of those Violence Against Women programs that could soon be on the block.
Elsewhere, the National Endowment for the Arts and National Endowment for the Humanities will likely be entirely eliminated, and the Corporation of Public Broadcasting would be privatized. In addition, the report outlines major cuts for the Department of Energy:
At the Department of Energy, it would roll back funding for nuclear physics and advanced scientific computing research to 2008 levels, eliminate the Office of Electricity, eliminate the Office of Energy Efficiency and Renewable Energy and scrap the Office of Fossil Energy, which focuses on technologies to reduce carbon dioxide emissions.
The blueprint does not mention cuts to Medicare or Social Security. This would align with Trump's campaign promises not to touch the entitlement programs, but it's hard to fathom the U.S. debt budging without reductions here too. Another wrinkle — Trump's cabinet appointees reportedly haven't been briefed on what this means for their jobs, should they be confirmed. On that note, Trump's pick to lead the Office of Management and Budget, Mick Mulvaney, hasn't been confirmed, so he's unable to fully participate in the planning as of yet. It shouldn't be long, however, before that happens.
(Via The Hill)