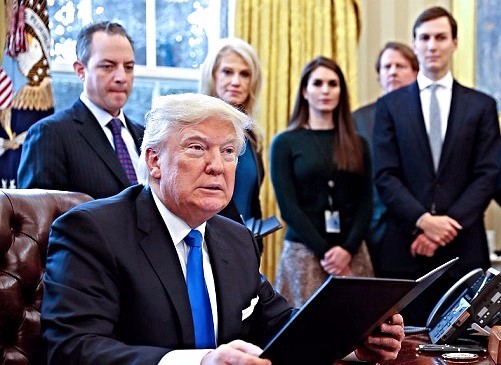 Amidst everything else going on in Washington — from DACA to Arpaio to healthcare to hurricane relief on two fronts — the Russia probe has still been steadily swirling, and the legal bills continue to rack up. Now, Trump's Office of Government Ethics has a solution for staffers caught up in the Senate's net, somewhat akin to the GoFundMe route taken by ordinary Americans faced with unexpected bills. The OGE has decided to reverse an internal policy that banned lobbyists from making anonymous donations to tthe legal defense funds of Trump aides.
There's no sign that the Russia probe is going to wrap up any time soon. After all, Don Jr. only recently gave his closed door testimony to the Senate Intelligence Committee, and that's just one thread in the much larger tapestry of possible collusion. A few of the White House staffers who have retained attorneys include Mike Pence, Jared Kushner, Don McGahn, and Hope Hicks. Already, the legal fees must be terrific. But it's certainly ironic that it's the administration's ethics watchdog that's reversing its position on anonymous donations, given the obvious ethical problems that decision poses.
"You can picture a whole army of people with business before the government willing to step in here and make [the debt] go away," said Marilyn Glynn, who worked in O.G.E. under Georgie W. Bush. But those interested in picking up the tab could have many motivations, some altruistic and some … less so. That was hashed out when this was last debated in the 1990s under the Clinton administration during the Whitewater fallout. While some argued that the anonymity of the donations precluded any ethical missteps on the part of the recipients, others argued that wasn't good enough and that lobbyists should stay out of legal defense funds entirely. The argument was never fully resolved.
There's no problem, of course, with contributions in which the identity of the donor is made public. And those Trump associates who aren't currently working for the government but are still under scrutiny by the Senate — like Michael Flynn, Roger Stone, and Paul Manafort — can raise funding for their legal fees from all manner of sources. But anyone involved in the investigation who's still in the White House should know that the Senate is free to include the source of legal funding in their investigation if it seems to be ethically problematic, illegal, or compromises witness testimony. In other words, a quick financial fix could lead to longer-term legal woes.
(Via Politico)