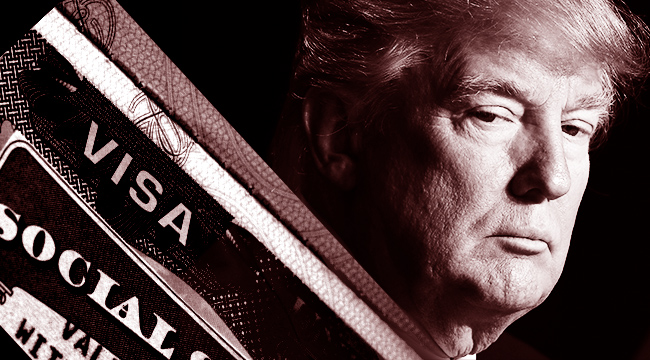 Over the last two days, Trump's heavy-handed immigration crackdown has come to Silicon Valley. In opposition to Trump's immigration actions, the U.S. Citizen and Immigration Services (USCIS) has now announced that it would be scrutinizing H1-B visas more closely to prevent "fraud and abuse" and altered guidelines for certain jobs that could be filled with the visa. This wasn't the first time the visa had been targeted, with "premium processing" being temporarily shut down by USCIS. But what is the H1-B? And why is Trump targeting it?
The H1-B visa program essentially allows companies to import highly skilled workers on a temporary basis, usually three years, with a chance to renew for another three years. If the visa holder decides to apply for permanent residency, that visa can be extended on a yearly basis. The idea behind the program is that if (and only if) companies are unable to find a qualified American citizen for the job, they may look overseas and bring in an employee. Currently, the H1-Bis limited to 85,000 issued per year
In practice, naturally, the H1-B is a bit more complicated. For example, Melania Trump was a beneficiary of the program, which to some demonstrates that exactly what a "qualified American citizen" means in some contexts can be subjective. Mostly, however, it's often been tied to Silicon Valley. Fully half the H1-Bs issued every year are for systems analysts, computer programmers, and application software developers.
Naturally, there's a divide in opinion on this practice, and there's a strong weight to both arguments. Some argue that the H1-B is used to avoid paying Americans what they're worth and to keep wages artificially low. And there's no denying that the program has, in the past, been used for unethical ends.
Conversely, however, Silicon Valley executives have been publicly complaining about a talent shortage for years, and there are other factors at play here. It's difficult to argue the industry hasn't been employing Americans when even Google will happily snap up an applicant who doesn't even have a college degree. The problem, it's been noted, is that software companies grow quickly, but finding the right applicant, even in a speedy process, can be slow. And hiring bias is a grave problem the industry seems unable, or perhaps unwilling, to address.
Immigration has often been key, furthermore, to founding well-known tech companies. More than half of the billion dollar businesses that drive the tech industry were founded by immigrants. Elon Musk, Yahoo! founder Jerry Yang, eBay founder Pierre Omidyar, and Google co-founder Sergey Brin are immigrants. Jeff Bezos and Steve Jobs are second-generation Americans.
It's clear that, bar Congressional action that doesn't seem forthcoming, the H1-B will be subject to Trump's overall crackdown on immigration. The new rules appear designed largely to target outsourcing firms, at least at first, which will be politically popular but potentially futile. But Trump seems dedicated to taking action on his campaign promises through the executive branch, so it's unlikely he's done with the H1-B just yet.