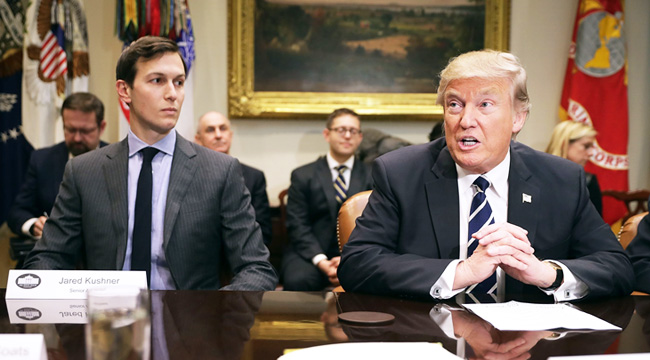 This morning, Donald Trump did not issue Twitter congratulations to Morning Joe hosts Joe Scarborough and Mika Brzezinski following their awkward on-air announcement. The president did, however, congratulate Fox and Friends on their "unbelievable ratings hike," which is some high-grade shade and evidence of Trump's on-off-feud with the MSNBC duo. Last October, for example, he tweet-threatened to sit down by the campfire one day and "tell the real story of @JoeNBC and his very insecure long-time girlfriend, @morningmika. Two clowns!"
Immediately following the inauguration, however and per a Vanity Fair report, Trump enjoyed lunch with Joe and Mika at the White House. Jared Kushner also slid in for "fish and scalloped potatoes," and the subject turned to the romantic relationship at hand, which was still rumored to the public but seemed to be a given here. Trump suggested that — should these two lovebirds ever marry — they might decide to do so at the White House or Mar-a-Lago. Scarborough told Vanity Fair that Jared interjected with an offer, and that's when things grew touchy:
"That's when Jared interrupted and said, 'Hey, you know what? I've got my license. I could marry you,'" Scarborough said. (A White House spokeswoman had no comment.)

According to Scarborough, that's when Trump snapped from the end of the table, saying: "Why would you marry them? They could have the President of the United States marry them."
While reflecting on this bizarre happening, Mika said she loves the White House and thinks it's "an amazing place," and she would consider any president's offer for this wedding venue "if it weren't Trump." Indeed and even without the ongoing drama between Joe and Trump, any couple would be bonkers to accept him as a wedding officiator. He'd totally — intentionally or not — upstage any bride and make the wedding all about himself. And poor Kushner! Dude got pushed down to bridesmaid level.
(Via Vanity Fair)