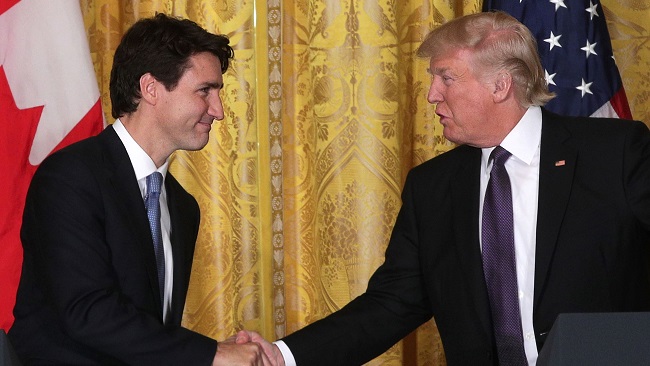 Among the many promises Donald Trump made to his supporters during the 2016 presidential campaign, one of the loudest was his promise to terminate the North American Free Trade Agreement (NAFTA) with Canada and Mexico during his first 100 days. With the arbitrary marker fast approaching and very little to show for it, the White House is scrambling to prove Trump has accomplished a great deal since his inauguration. Whether his Wednesday night phone calls with the leaders of Canada and Mexico, and their joint decision to stick with NAFTA, helps his case remains to be seen.
The Associated Press reports that, following phone calls with Canadian Prime Minister Justin Trudeau and Mexican President Enrique Peña Nieto, Trump "agreed not to terminate NAFTA at this time." Describing the conversations as "pleasant and productive," an official White House statement revealed "the leaders agreed to proceed swiftly, according to their required internal procedures, to enable the renegotiation of the NAFTA deal to the benefit of all three countries."
If Trump's sudden decision to not terminate the country's involvement in NAFTA wasn't enough of a surprise, he also praised it, Trudeau and Nieto equally in his own statement:
"It is my privilege to bring NAFTA up to date through renegotiation," Trump said in a written statement that accompanied the readout of his phone calls. "It is an honor to deal with both President Peña Nieto and Prime Minister Trudeau, and I believe that the end result will make all three countries stronger and better."
Despite the White House's new approach to the divisive trade agreement, which Trudeau offered to renegotiate with the newly-elected president back in November, Trump's comments late Wednesday shouldn't be taken at face value. After all, this is the same man whose administration has continuously made the construction of a wall along the U.S.-Mexico border a top priority — something Nieto recently dubbed "unfriendly" and "hostile." What's more, earlier this week Trump weirdly bashed Canadian diary farmers and imposed new tariffs on the country's lumber imports.

Not to mention Trump's first tweets on Thursday, which unsurprisingly reversed his NAFTA reversal somewhat by threatening to terminate it "if we do not reach a fair deal for all" during the renegotiations. He also claimed Trudeau and Nieto called him, which wasn't made apparent by the original AP report. As for CNN's coverage of the conversations, they were described as "Trump's phone calls to [Trudeau] and [Nieto]."
(Via Associated Press and CNN)