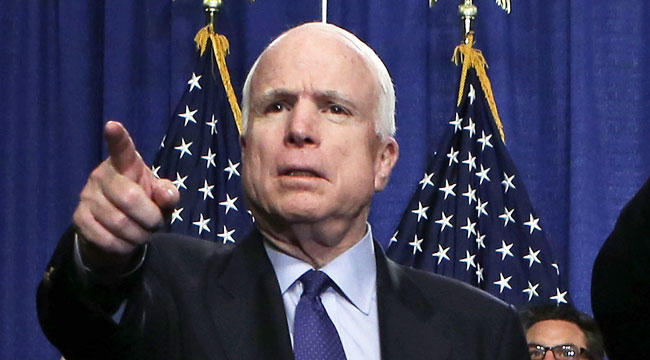 With President Trump's self-imposed deadline on legislating a DACA fix rapidly approaching, the White House has both offered its own plans for an immigration deal (as long as there is money for a border wall) while also appearing to not understand what the definition of "Dreamers." The Senate is doing all it can to help by introducing another bipartisan plan, but President Trump has already rejected the proposal.
The Senate plan, put together by John McCain (R-AZ) and Chris Coons (D-DE), offered permanent legal status to Dreamers, but it did not include immediately available money for border security. The bill would give legal status to a larger pool of undocumented immigrants than Trump suggested previously, while also not including changes to the visa lottery program or family-based immigration (frequently referred to as "chain migration" by the president and other conservatives).
"It's time we end the gridlock so we can quickly move on to completing a long-term budget agreement that provides our men and women in uniform the support they deserve," McCain told reporters. However, with the clock ticking toward another potential government shutdown unless another extension is passed by Congress, Trump seemingly tweeted that McCain and Coons' plan was a "total waste of time."
The White House has confirmed that Trump was issuing a rejection of the new bipartisan plan. The government will shut down again on Friday morning unless Congress makes a deal.
(Via CNBC, CNN & Washington Post)