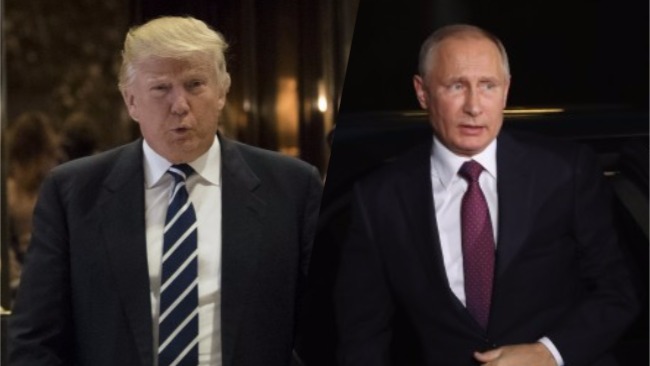 Following the Obama administration's decision to expel 35 Russian officials, close down two facilities used by U.S.-based Russian diplomats, and levy additional sanctions for their alleged election hacking, Vladimir Putin issued a harsh response. The Russian president said he would not "stoop to the level" of the outgoing American president so as to sully the supposed "restoration of Russian-American relations." Now it seems this particular tactic apparently struck a chord with President-elect Donald Trump, who tweeted direct praise for Putin's decision to "delay" any kind of retaliation against the U.S. for Obama's last-minute maneuver.
"Great move on delay (by V. Putin)," wrote the former reality television star on Friday afternoon. "I always knew he was very smart!"
The praise for Putin's announcement should come as no surprise, for Trump has repeatedly downplayed Russia's alleged involvement in the email hacks committed against the Democratic National Committee and other political organizations. He also ignored reporters' questions about the matter during an impromptu Wednesday evening press conference, and after Thursday's announcement, suggested America ought to forget about the hack and "move on to bigger and better things."
Sure, Trump did suggest he would "meet with leaders of the intelligence community next week in order to be updated on the facts of this situation," but judging by Friday's tweeted praise for Putin, precisely how serious the president-elect is treating the matter remains unknown. Especially since he subsequently pinned the tweet in question to the top of his official Twitter page:
What's more, the Russian U.S. Embassy's Twitter account took notice of Trump's comment and retweeted it:
Since Thursday's announcement, several official Twitter pages affiliated with the Russian government have trolled the outgoing administration. Soon after news of the sanctions broke, Russia's U.K. Embassy joked they were "glad to see the last of this hapless Adm." So that the U.S.-based Russian embassy would retweet Trump at this stage in the process isn't actually all that shocking.