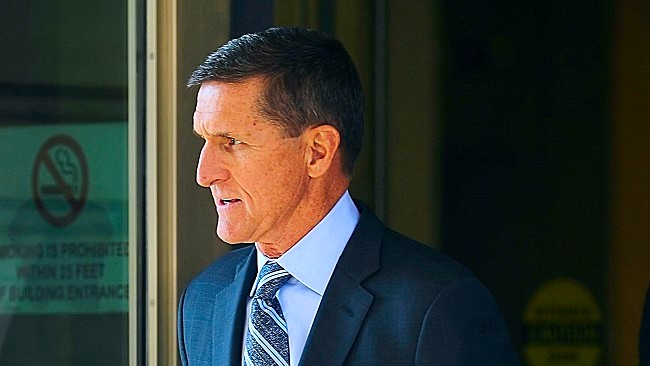 Michael Flynn, the former National Security Advisor and Donald Trump campaign associate who resigned in February following accusations of collusion with Russian officials, may be the president's next target. Why? Because Flynn plead guilty to lying to the FBI and will possibly be cooperateding with Special Prosecutor Robert Mueller's ongoing investigation into Team Trump's affiliations (or lack thereof) with Russia. However, what Flynn might have to say about the Trump campaign's potential collusion, known and otherwise, with representatives from the country who hacked the 2016 election remains to be seen.
Not that it matters, because a new Washington Post report suggests the president's legal team is already preparing for an offensive against Flynn. According to three sources who spoke with the paper, they will "cast [him] as a liar seeking to protect himself if he accuses the president or his senior aides of any wrongdoing":
Trump's legal team has seized on Flynn's agreement with prosecutors as fodder for a possible defense, if necessary. In court filings, the retired lieutenant general admitted that he lied to the FBI about conversations he had with the Russian ambassador to the United States during the December 2016 transition.

"He's said it himself: He's a liar," said one person helping craft the strategy who was granted anonymity to describe private conversations.
Since the news of Flynn's plea deal went public, President Trump has said he feels "very badly" for his former National Security Advisor. However, he also insisted there was "no collusion" between his campaign and Russia and retroactively claimed he had fired Flynn for lying to the FBI in the first place. (This claim, in the form of a "sloppy" tweet, was later attributed to one of the president's lawyers.) Considering his well-documented penchant for turning on former allies without much provocation, that Trump would go after Flynn in such a manner isn't all that far-fetched.
(Via Washington Post)