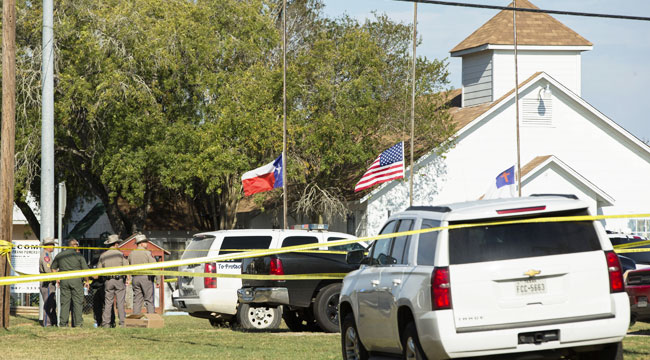 In 2015, mass murderer Dylann Roof killed 9 people at a historically black church in Charleston. On Sunday, that record evaporated when a gunman entered the First Baptist Church in Sutherland Springs, Texas. The suspect killed 26 people and wounded 20 more. One family lost 9 members in the attack, and ages of the victims ranged from childhood (including a pastor's daughter) to 77. It's the deadliest church shooting in U.S. history as well as the largest mass shooting in Texas history.
Investigators are now working to determine the motive of the suspect, who has been identified as Devin Patrick Kelley. He allegedly entered the church dressed in black tactical-style gear before unloading what authorities say was an AR-15 style rifle. Here's what we know about him:
Kelley's Home And Profession: The 26-year-old Kelley lived outside of New Braunfels, a city halfway between San Antonio and Austin, on property owned by his family. According to neighbors who spoke with the Washington Post, Kelley resided in a barn (behind the spacious main home) with his current wife and their toddler. Records indicate that Kelley worked as a security guard this summer for an area waterpark. On Sunday, authorities raided Kelley's home, but they didn't reveal any evidence from that search that would have pointed toward a motive. Further, investigators haven't indicated that any notes of intent were found at the scene or in Kelley's vehicle, nor have they uncovered any links between him and terror organizations.
He Was Discharged From The Military For Bad Conduct: Following his high school graduation, Kelley joined the U.S. Air Force in 2010. He was court martialed in 2014 under Article 128 of the Uniform Code of Military Justice for two counts of assault, one on his wife and one on their child (according to the New York Times, he cracked the infant's skull). As a result, he received a bad conduct discharge, which resulted in a reduction of his rank. The assault counts on his record would have been treated as felonies under code that governs discharges.
Kelley's Background Check Form: CNN reports that Kelley was denied a license to carry a gun by the state of Texas. Further and due to Kelley's discharge, existing gun laws didn't explicitly prohibit him from buying a firearm per the discharge, yet his felon status did. Kelley still purchased the rifle he used during the massacre. When he filled out paperwork (at a San Antonio Academy Sports & Outdoors location) for his required background check, he "checked the box to indicate he didn't have disqualifying criminal history." He listed a Colorado Springs address on the papers.
The Death Of Kelley: During the massacre, a neighbor reportedly heard gunshots, grabbed his own rifle, and reportedly confronted Kelley while he was leaving the church. According to Texas Department of Public Safety Regional Director Freeman Martin, who spoke during a press conference, "The suspect dropped his rifle, which was a Ruger AR assault-type rifle and fled from the church." Kelley was later discovered several miles away, dead in his vehicle from a gunshot wound. Police now say it's most likely that Kelley died from a self-inflicted gunshot wound rather than while exchanging gunfire with the neighbor, who still has not been identified, but witness Johnnie Langendorff told CNN that the neighbor "was barefooted. He had no shoes on or nothing but he was ready to act."
A Possible Motive? Freeman Martin again addressed reporters during a Monday press conference, in which he stated that Kelley's in-laws (his mother-in-law was confirmed to hold a P.O. box in Sutherland Springs) frequently attended the church where the massacre took place, although they was not present this past Sunday. Martin also stated that authorities are not currently investigating this as an act of terror. Instead, officials are digging into a "domestic situation" said to be unfolding within the family. CNN further reports that Kelley sent threatening text messages to his mother-in-law. On Monday afternoon, CNN reported that Kelley killed his grandmother-in-law during the massacre.
His Social Media Presence: Immediately following the massacre, Kelley's purported Facebook profile disappeared from the social media network. However, the Daily Beast published screencaptures, which included a header photo of a semiautomatic weapon that was captioned, "She's a bad b*tch." The Washington Post spoke with some Sutherland Springs locals who indicated that Kelley attempted to "friend" them on Facebook, only to pick fights, in the months leading up to the massacre.
As further details unfold regarding the Sutherland Springs church massacre, we'll bring you any relevant updates as they arrive.