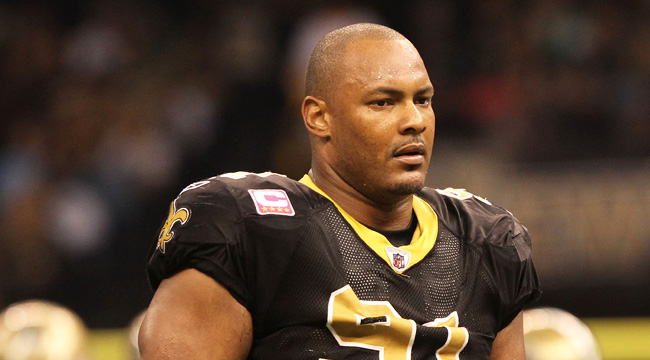 In April, former New Orleans Saints defensive end Will Smith was killed during a brutal fit of road rage, wherein he was shot eight times. Within weeks, Cardell Hayes was indicted for Smith's death. Eight months later, a week-long trial came to an end this weekend with the jury deliberating late into Sunday evening. And after five hours, the jury found Hayes guilty of manslaughter, rather than opting for second-degree murder.
The Associated Press first reported the news with WAFB in Baton Rouge filling in details, which also includes a guilty verdict for the attempted manslaughter of Smith's wife, Racquel, who sustained two gunshot wounds in the incident. Hayes was cleared on a third charge of aggravated criminal damage to property (involving the allegedly intentional ramming of Smith's car before shots were fired).
Reactions to the verdict from Smith's wife and a former teammate were understandably emotional:
The District Attorney's Office said it is gratified by the verdict. A statement from the DA's office said it was "a victory for the Smith family as well as the citizens of New Orleans."

Smith's wife was emotional following the decision. Teammates and coach Sean Payton were also there for the verdict. "You've got a lot of pent-up emotion, frustration. To hear guilty in some sense give you some relief. That's not a win," former Saints running back Deuce McAllister said about Racquel Smith's reaction.
The verdict arrives after Saturday's testimony from Hayes, who told jurors that he acted in self defense while believing Smith held a gun during their altercation. However, police discovered Smith's gun holstered within his vehicle with "no evidence that it was fired or that Smith had grabbed it."
Hayes now faces up to 40 years in prison (rather than the mandatory life sentence that would have arrived with a second-degree murder verdict). He will be sentenced on February 17.
(Via WAFB in Baton Rouge, New York Times & Associated Press)