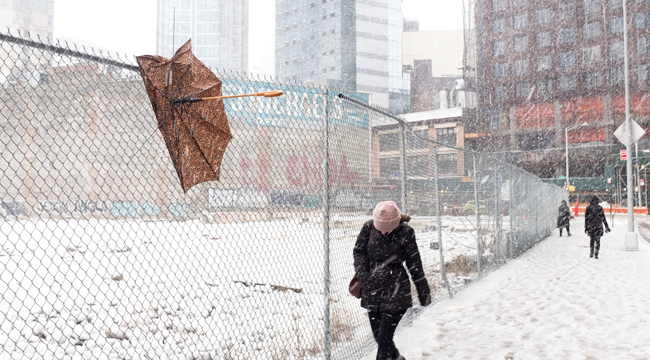 Spring officially began on Tuesday, although the Northeastern seaboard would be hard pressed to believe it. The fourth nor'easter within a month has been projected to dump a foot of snow in several areas, from New York and Boston to Philadelphia and all the way to Ohio and Tennessee. With over 70 million people in the storm's path, school districts have preemptively cancelled classes for what appears to be a beast of a storm, and commuters are facing a terrible ride ahead, through Wednesday and beyond.
The most dramatic news so far, however, has to do with what USA Today is calling "one of the worst air travel days" of the year. That is to say, airlines are preemptively axing a growing number of flights with the current tally standing at 4,400. Washington, D.C., Philadelphia, Baltimore, and Boston are seeing an enormous amount of displaced travelers, but travelers in and out of New York City will feel this storm the most:
For Wednesday, the three New York City-area airports were among the hardest hit. About two-thirds of the entire Wednesday flight schedule had been canceled at both Newark and LaGuardia airports. American, the world's biggest carrier, said it would suspend all of its LaGuardia flights at 11 a.m. ET.

At JFK, just under half the day's flights had been canceled as of 8 a.m. ET. Airports in Philadelphia, Washington, Baltimore and Boston each also were seeing major schedule disruptions.
The storm is expected to bring howling winds and more coastal flooding along with the snow before moving up the coast into Maine by Thursday. Meanwhile, the Weather Channel is warning of rampant power outages and snow accumulations of two inches per hour until the storm concludes. As this video shows, Gettysburg, Pennsylvania had already seen 11 inches by Wednesday morning, and it's not over yet.
(Via USA Today, Weather Channel & CNN)