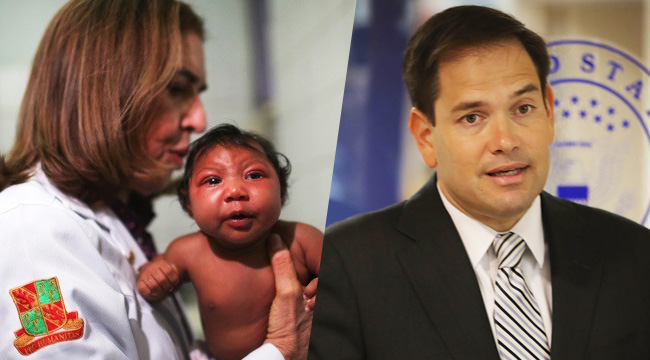 In March, Florida Senator Marco Rubio declared his intent to leave public service after his current term. This reaction followed Donald Trump's final kick when his rival suspended his presidential campaign. A few months later, Rubio announced his desire to seek Senate reelection. At the time, Rubio said he felt confidence for neither a Hillary Clinton nor a Trump presidency, but he later changed course and endorsed Trump (via a prerecorded Republican convention speech). Now, Rubio's adhering to his conservative roots when it comes to the pairing of two difficult issues, the Zika virus and abortion.
Rubio previously urged Congress to pass a funding measure to fight Zika, which is terrifying for pregnant women because it can pass through placenta and cause birth defects such as microcephaly and even infant death. The proposed funding bill failed because Democratic senators refused to acquiesce to several embedded provisions, which included impeding Planned Parenthood's role in the crisis, stripping $540 million in funding for the Affordable Care Act, and — on an entirely unrelated note — allowing the Confederate flag to freely fly at federal cemeteries.
Fast forward to August, and Zika is still running rampant across the globe and throughout subtropical climates. This includes Florida, which has recently become the focus of an unprecedented travel advisory. Pregnant women have been warned to stay away from portions of North Miami, but Rubio tells Politico that he will oppose allowing abortions even when the mother is infected with Zika. Here's his rationale:
"Obviously, microcephaly is a terrible prenatal condition that kids are born with. And when they are, it's a lifetime of difficulties. So I get it. I'm not pretending to you that that's an easy question you asked me. But I'm prolife. And I'm strongly pro-life. I believe all human life should be protected by our law, irrespective of the circumstances or condition of that life."
Zika remains uncharted territory, for never before has a mosquito-borne disease been known to cause birth defects. Indeed Rubio's stance could usher in a frightening scenario for women as the virus continues to spread to different regions. Pregnant women (along with their partners, who can spread Zika) can easily acquire the virus — beyond their control — while traveling abroad, or even while staying at home.
Rubio's stance on barring abortion for Zika-infected mothers shouldn't come as a huge surprise. During primary season, he danced around the rape and incest exceptions during several interviews. Polifact concluded that it was "Mostly True" that he wanted to ban abortion in these instances also.
(Via New York Times, Politico & Polifact)