A virus — carried by mosquitoes — has taken over Brazil and is tearing across the globe. While the World Health Organization issues alarms and travel advisories, scientists are scrambling to assess the situation without much data.
So, what is the Zika virus? How will it affect you? Is it as big of a deal as people are saying? So far, the answer to that last question is "yes." The New York Times warns us to expect four million infections by year's end. Troops have been deployed to fight mosquitoes in Brazil. The W.H.O. will soon hold an emergency meeting in hopes of containing the virus before it creates Ebola-level panic.
What You Should Know About The Zika Virus
The Zika virus was first discovered in 1947, but remained mostly unstudied until now. The earliest case occurred in a monkey, and the virus rarely affected humans until 2007 when it hit the Pacific Ocean's Yap Islands and, later, French Polynesia. Experts now worry the virus will "spread explosively" throughout the Americas. At least 31 cases have been reported in the U.S. so far, and vector-borne disease expert Uriel Kitron calls the virus a "game-changer" for its ability to pass though a pregnant woman's placenta. Some affected babies won't live long, and those that do will require medical support for their entire lives.
The Zika virus is spread by Aedes aegypti mosquitoes, which differ from other types of mosquitoes by attacking humans during daytime hours. However, the disease may have spread to regular mosquitoes too (the dearth of information is certainly adding to the panic). As of now, experts believe up to 1.5 million people have been hit by the virus, which causes fever, inflammation and joint pain. To complicate matters, Zika often mirrors the dengue or chikungunya viruses. While 80% of infected adults will show only mild symptoms, the potential effects on pregnant women are devastating.

The infant below shows the telltale signs of microcephaly, which is evidenced by an abnormally small head and decreased brain development. The W.H.O. traced more than 4,000 reported Brazilian microcephaly cases in four months. To put that number in perspective, an estimated 150 cases of microcephaly were reported in 2014. Because researchers know little about the Zika virus, they are hedging their bets that other fetal effects may occur, too.
The neuro-pediatrician who recognized the Zika crisis, Dr. Vanessa Van Der Linden, captured these brain scans of a two-month-old infant to show the effects of microcephaly.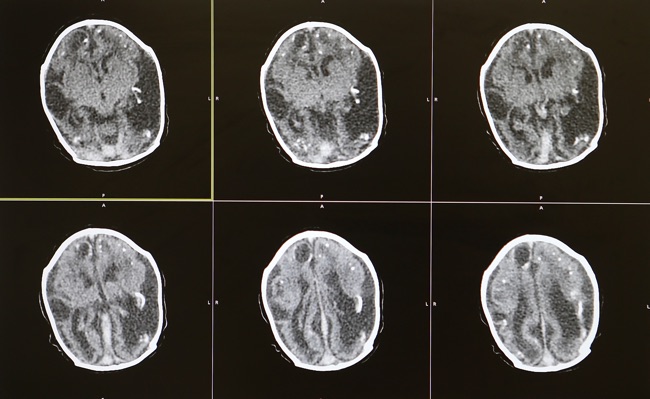 One U.S. expert says a Zika vaccine won't arrive for years, so fumigation and breeding-ground crackdowns will likely be the best defense. The Zika cases that have slipped past U.S. borders mainly affect those who have recently traveled abroad. However, experts believe the mosquitoes might spread to our warmer, muggy climates — like those found in Hawaii, Florida, and Texas.

Meanwhile, the Brazilian crisis has grown so dire that the country's army deployed more than 200,000 soldiers to help eradicate mosquitoes. These soldiers perform neighborhood sweeps to locate potential mosquito breeding grounds, and they teach residents what they can do to help reduce the risk of catching Zika.
In the absence of a cure or vaccine, fumigation stands as the primary weapon against the Aedes aegypti mosquito. Here, a woman walks through an anti-mosquito fog dispersed by Brazil's Health ministry.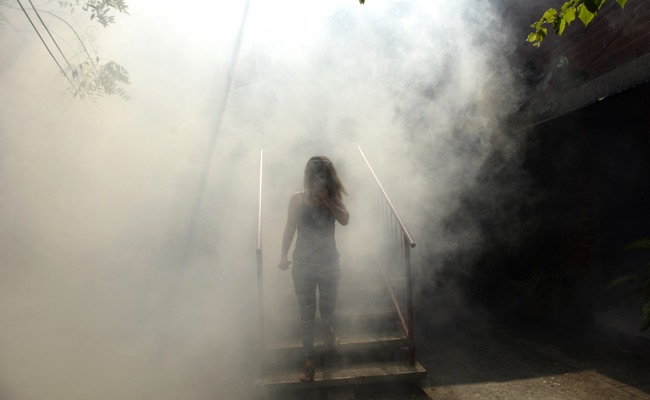 HOW ZIKA AFFECTS TRAVEL
Take a glance at the map above. The areas affected by the Zika virus comprise virtually all of Central America (it's safe to bet that there will be confirmed cases in Costa Rica and Nicaragua soon). All of northern South America and most of the Caribbean are affected, too.
So, if you're going to any of those places, you're on notice. But that doesn't mean you can't go. It simply means you shouldn't risk going if you're pregnant. WHO and CDC are in agreement on this. The CDC's mandate is crystal clear:
Because there is neither a vaccine nor prophylactic medications available to prevent Zika virus infection, CDC recommends that all pregnant women consider postponing travel to areas where Zika virus transmission is ongoing.
So far, airlines and resorts have been amenable to cancellations by parties traveling with pregnant women. Carnival and Royal Caribbean Cruise Lines are letting pregnant women reschedule. So are prime honeymoon and babymoon destinations — including major chains like Hilton, Ritz-Carlton, and Grand Hyatt. United Airlines is currently offering full refunds. American Airlines is doing the same (they request a doctor's note). Jet Blue is letting all concerned parties have a refund or reschedule, this according to a spokesperson cited at the New York Times.
Point being: Cancellations seem easy to come by. In this era of corporations getting Twitter-shamed, no one wants to be the company who wouldn't accommodate a pregnant mother. Early reports are that people are using these cancellation policies, too. Cruise ships have been hit particularly hard and have seen stocks fall.
If you plan a trip now, then fall pregnant, a doctor's note ought to get you a refund. If you receive any pushback, you can expect travel insurance to cover you (again, with a doctor's note). If being pregnant isn't in your purview, it may be more difficult to cancel (but why would you?).