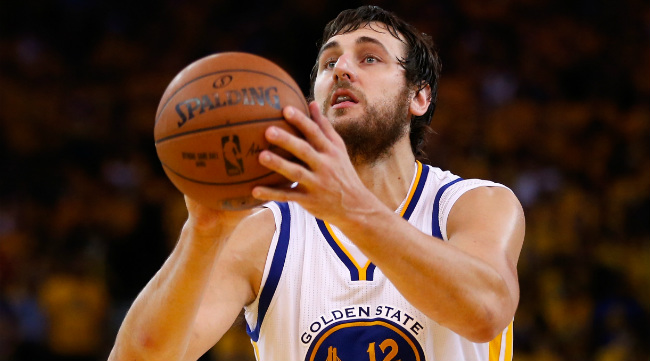 The Cleveland Cavaliers didn't need to trade anyone to get a whole heck of a lot better at the trade deadline. Cleveland has already gone out and gotten the backcourt helped they need off of the bench in Deron Williams, who is expected to sign with the team on Monday.
Still, the team's frontcourt could use a shot in the arm, especially with regards to defense and rebounding – Kevin Love is hurt, Channing Frye's value stems from his ability as a shooter, and Tristan Thompson is really the only big they have who specializes in defense and rebounding.
For that reason, Cleveland is reportedly on the verge of making a big splash. According to Tim MacMahon of ESPN, the Cavaliers are going to sign Andrew Bogut once he hits the free agency market.
Bogut played for Dallas this season and was sent to Philadelphia in the deal that sent Nerlens Noel to the Mavs. It was long assumed that Bogut was going to get traded or bought out by the Sixers, and once the trade deadline passed without him getting moved again, that second option seemed like a foregone conclusion.

Of course, the thing that makes this so interesting is that Bogut was on the Golden State Warriors from 2012 until this past summer. The Australian big man won a title with the Dubs and was on the team that fell to Cleveland last year (he did not play in games six and seven of the 2016 Finals due to a knee injury). Not only is he a big addition because he fills a need for Cleveland, but Bogut could very well be an asset in the team's quest to understand what it needs to do to beat Golden State in the Finals this year should both teams get there.
Should this happen, Cleveland's bench will suddenly become one of the best in the league. The starting lineup of Kyrie Irving, Kyle Korver, LeBron James, Love, and Thompson is already fantastic, while a bench that boasts Williams, Iman Shumpert, J.R. Smith, Richard Jefferson, Derrick Williams, and Frye is solid. Add Bogut to the equation and the Cavaliers may boast the deepest roster 1-12 in the NBA. This was all able to happen without Cleveland having to trade anyone from its rotation at the deadline, which is kind of crazy.
A potential rubber match in the Finals between Cleveland and Golden State was always going to be super interesting. If the Cavaliers are indeed able to bring Bogut's defense and rebounding into the fold, it will just add another layer to what could end up being the most intriguing Finals matchup in years.
UPDATE: After some speculation that he could head elsewhere, Bogut is reportedly heading to Cleveland. Shams Charina of The Vertical reported that Bogut has committed to joining the Cavs.
Charina also added a fun nugget: Bogut's decision to join the Cavs came after some serious debate, because two other teams specifically made an impact on him.