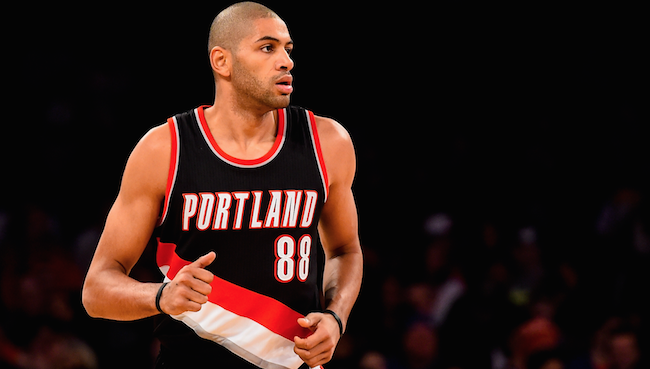 Four of the Portland Trail Blazers' top six players, including LaMarcus Aldridge, are free agents on July 1. In a wholly surprising turn of events, though, it's actually one of those two cogs under contract who's already on the move.
According to Yahoo Sports' Adrian Wojnarowski, Portland has agreed to a trade that will send long-time starter Nic Batum to the Charlotte Hornets in exchange for Gerald Henderson and Noah Vonleh.
The 26-year-old Batum is coming off a disappointing season that was marred by minor injuries. He's under contract through next season, giving the Hornets access to his Bird Rights upon his impending free agency next July.
It's no secret Charlotte needs talent on the wing. The team took a gamble with Lance Stephenson last summer and promptly admitted their mistake earlier this month, dealing the mercurial guard to the Los Angeles Clippers for big man Spencer Hawes. While Batum is the type of solid, steady performer Stevenson never was, he's still an odd fit for Steve Clifford's roster. Unless the Frenchman completely regains the long-range acumen that eluded him for all of 2014-2015, the Hornets will be just as strapped for space offensively as they've been for the past two seasons.
All that said, Batum is a better player than Henderson – on both sides of the ball. But the gap between the two might not be as big as their name recognition suggests, and acquiring the Duke product in this swap gives the Blazers some much-needed insurance as both Wesley Matthews and Arron Afflalo are about to hit the open market.
It's unlikely both wings will be playing for Terry Stotts next season, and conventional wisdom says Matthews will take precedent over Afflalo in Portland's free agency pecking order. Though "Iron Man" is coming off a March achilles tear, all indications are that he'll be ready for next season. But bringing him back and letting Afflalo walk would still leave a hole at small forward in Batum's absence, and it's one Henderson can't quite fill alone.
The Blazers were one of basketball's several best teams through the first 10 weeks of last season before falling victim to the injury bug. Even throughout their early success, though, there still seemed a ceiling on Portland that didn't exist for other members of the Western Conference hierarchy. By trading Batum and shuffling the deck in advance of July, GM Neil Olshey has made it clear to Aldridge and other incumbent free agents that he knows the status quo wasn't going to be good enough. And despite suddenly lacking an entrenched starter on the perimeter, the overarching organizational mindset this trade suggests – not to mention the nearly $4 million of extra cap space – is surely appealing to free agents Aldridge, Matthews, and Robin Lopez.
Basically, there are many positives to consider for the Blazers here even before taking what could be the biggest one into account: acquiring Vonleh on his rookie deal. The 6-foot-10, 240-pounder played just 25 inconsequential games during his rookie season after a sports hernia sidelined him for the duration of training camp. As a recent top-10 pick with size and athleticism to spare, though, it goes without saying that the 19-year-old's best days are ahead of him.
From that perspective, it's quite vexing the Hornets gave up on Vonleh so readily. The Indiana alum showed nothing to indicate he'll be an above-average NBA player in 2014-2015, but the jury is still very much out on the trajectory of his career. Given that Yahoo Sports previously reported Charlotte was looking to trade Cody Zeller in hopes of freeing roster space for a rookie, it seems GM Rich Cho simply opted for the first opportunity to shed either of his young big men.
This is the summer's first shocking move, and it comes just 24 hours before the draft. Needless to say, there will be many more like this to come – and several could potential involve the Trail Blazers.
[Via Adrian Wojnarowski]