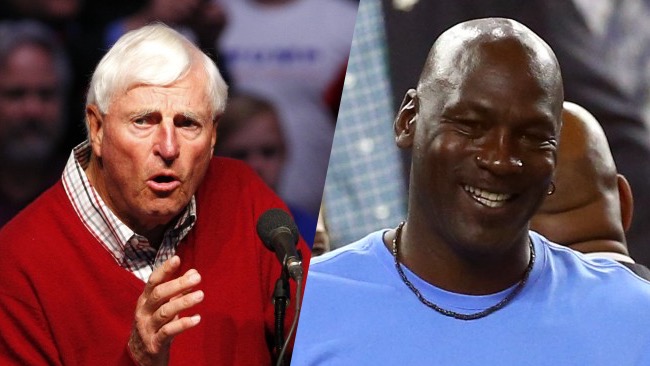 Try as LeBron James may to unseat him, Michael Jordan is the greatest of all time to basketball fans everywhere. It's as close as can be to indisputable. Part of MJ's legend is his hard-nosed attitude and maniacal competitive streak. Nobody has ever questioned Jordan's toughness, but way back in 1984 in his pre-NBA days, Mike reportedly ran into someone a little bit tougher, so much so that His Airness was reduced to tears. No, not in the Crying Jordan meme sense — this happened because someone was so mean to a young MJ that he welled up with tears.
According to North Carolina and 1984 USA Men's Basketball teammate Sam Perkins, Mike cried after Team USA head coach Bobby Knight laid into him after an uncomfortably close victory over Germany.
"Bobby Knight, he got after us," Perkins told Tina Cervasio and Tim Legler on SiriusXM NBA Radio. "He told Michael that's the worst he ever played. Now, Michael's going to deny this but he cried, he cried after the game because of the fact that Bobby Knight told him, 'You should apologize to everybody in here.'"
Perkins went on to say it was just a lesson for the team, and that Jordan was consoled by his friend and teammate, former first-round pick Leon Wood. Crying Jordan might be the most prevalent meme on the internet, so it's not a total shock that Mike cried at least once before, and the fact that the impassioned Knight was the one who elicited that response takes some of the sting off the story.
Just a touch.
(H/T NBC Sports)