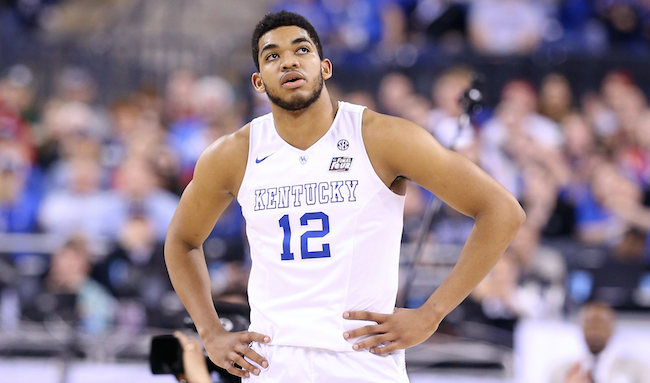 Karl-Anthony Towns has nothing to lose and little to gain by allowing teams full access to his pre-draft preparations. As a consensus top-two prospect and favorite of the 2015 class among a growing majority, the Kentucky product is virtually assured to be chosen with one of the draft's first two picks.
Every player's dream is to be selected first overall, and Towns is a perfect fit alongside Andrew Wiggins as the Minnesota Timberwolves begin their arduous rebuild. If Flip Saunders and company opt for Jahlil Okafor, though, the 19-year-old won't be upset for long – who wouldn't want to play for the Los Angeles Lakers?
Towns is reportedly taking advantage of those enviable draft circumstances. According to Adam Zagoria of zagsblog.com, the multi-faceted big man has elected to forego all private team workouts leading up to the draft, and will instead hold meetings with just the 'Wolves and Lakers.
Projected No. 1 draft pick Karl-Anthony Towns will interview with the top two teams in the NBA Draft lottery — the Minnesota Timberwolves and Los Angeles Lakers — but won't workout for any teams, sources told SNY.tv.
It's become an increasingly common practice of elite prospects to avoid one-on-one workouts altogether and only afford teams choosing at the top of the lottery a meeting. With nowhere for their status to go but down, it just doesn't make sense for those select few players to risk their sterling reputations by allowing for further evaluation.
Wiggins and Jabari Parker, however, held individual workouts for multiple teams in advance of last June's draft. This approach by Towns, while prudent, is also unprecedented – even for prospects of his rare caliber.
Make no mistake, though; his draft position still won't be negatively influenced. Not only does Towns have the highest two-way ceiling of any player in this class, but he's also an ideal fit for the modern game as a floor-spacing, rim-protecting center. Minnesota and Los Angeles know that, and shouldn't let the lack of a chance to put Towns through their personal rigors change their assessments.
Both teams certainly have enough information already to feel comfortable taking the New Jersey native, too. And as the draft nears, Towns seems to be separating himself from the pack even further. Here's Zagoria:
Towns is working out in Los Angeles with former UCLA star Don MacLean, who raved to SNY.tv about Towns' potential and work ethic.

"I've been doing this for 11 or 12 years pre-draft," MacLean, the leading scorer in Pac-12 and UCLA history, previously told SNY.tv. "Because I had a lot of top 10 picks and a lot of really good players, I'm not really impressed or blown away. I had Towns all last week and I was blown away. Blown away.