The prospect of Kobe Bryant and LeBron James facing off on basketball's biggest stage was something we heard nonstop throughout the late 2000s and early 2010s. It's the rivalry that never was. Everyone was hoping for that seemingly inevitable NBA finals face off – companies like Nike even aired commercials that predicted it. One problem: Fellow superstars like Kevin Garnett, Dwight Howard, Dirk Nowitzki, and Kevin Durant had other plans.
We witnessed the final matchup between these two league-defining icons on Thursday night, and it certainly did not disappoint. NBA fans hadn't been so excited about a Kobe-LeBron matchup in quite some time; not just because it was the last, but due to the safe assumption that an aging, hobbled Mamba would put on a show.
But as ESPN.com put it, this wasn't a battle of supremacy, but one more aligned with a character study. Kobe's method is to attack, just like his namesake serpent. LeBron, on the other hand, wants to get everyone involved. Both legends took different paths that led to defining moments of greatness throughout their careers.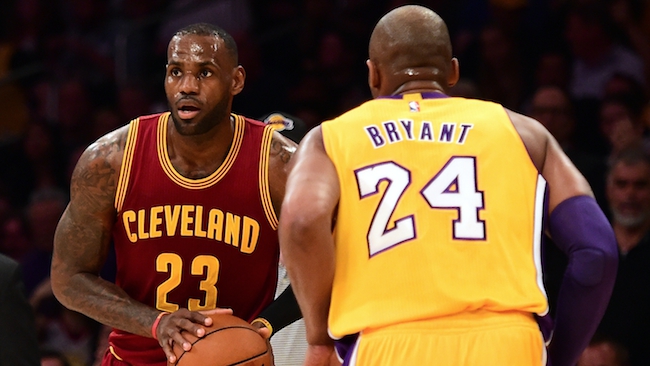 As Kobe has gotten older, he's become more candid while still carefully crafting an image of toughness and relentless intensity. What better example of this than this interaction following Thursday night's game? After sharing a final post-buzzer hug with James, Kobe reportedly went up to LeBron's mother, Gloria, and told her that he's been watching her grand kids blossoming as future basketball stars and gave the following critique.
"They pass too much," Kobe told her. "Send them my way, and I'll fix that."
The audacity of Kobe to say that is one of his most polarizing traits. On one hand, it's very tongue in cheek of Kobe – even cute. On the other, it shows a constant need to be an influence on the game even in his final season.
After the game, Kobe even took the time to give his thoughts on the current state of the Cavs.
"You have to be true to who you are, and authentic. And I think every team should have that lightning rod. Because the happy-go-lucky stuff doesn't work. I don't care what anybody says or people's perception of the team. You have to have that inner conflict. You have to have that person that's really driving these things. From the Cavs' perspective, it's hard for me to tell from afar who should be that person. LeBron's not that person. LeBron, he's a … he brings people together. That's what he does naturally. He's phenomenal at it. But you have to have somebody else who's going to create that tension. Maybe it's Kyrie [Irving]."
Does this say more about Kobe or about LeBron? LeBron not yet being able to lead the Cavs to a championship or Kobe's need to be the guy who is relevant enough to have an influential say in it? Either way, the league is going to miss having such polar-opposite superstars, at least until the next generation takes their place.
(ESPN)
Now Watch: Meet The 5 Best Trash Talkers In The NBA