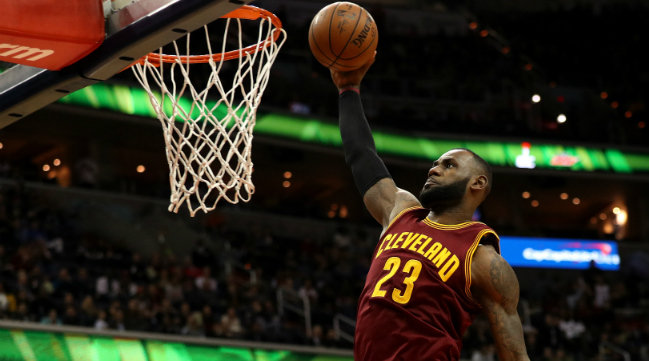 At the age of 32, LeBron James probably isn't at his pure physical peak anymore. If you asked the Detroit Pistons on Thursday evening, though, they would probably disagree.
The Pistons withstood LeBron's onslaught of 29 points, 13 rebounds and 10 assists in a 1o6-101 victory at the Palace of Auburn Hills but, on a night when James produced his 50th career triple-double, he also managed to put on a slam dunk clinic. The reigning NBA Finals MVP got started early and, needless to say, he never slowed down.
James teamed with All-Star teammate Kyrie Irving for a powerful, two-handed throw down.
Then, he spun past Detroit's Stanley Johnson for a ridiculous dunk that also netted him a trip to the free throw line on the back end.
For good measure, LeBron reminded everyone of his ball-handling prowess and elusiveness by knifing through the entire Pistons defense.
The open floor was also LeBron's playground.
Neither Marcus Morris nor Tobias Harris could do a thing to slow down the train.
And, finally, LeBron went out of his way to annihilate Harris with the dunk of the night in the Association.
All told, James finished the 39-minute performance with seven (!) dunks and, as you might expect, he generated quite a bit of fanfare for his performance.
This was a wildly impressive performance from James even without the dunks because, again, it was another triple-double that placed him in select company.
In the end, though, dunks generate attention like nothing else in the game of basketball and LeBron James put on a big-time show in Detroit on Thursday.