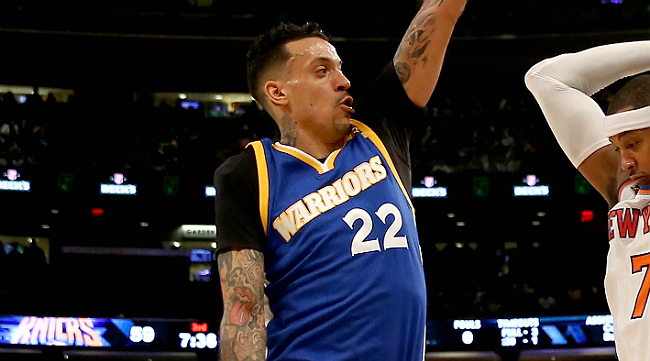 Matt Barnes' tenure with the Kings didn't go especially well, as the mercurial small forward lasted only 54 games with in Sacramento before being released to make room for additions from the DeMarcus Cousins trade. Barnes is no stranger to the darker side of the business of basketball, as he's played for nine franchises in his 14 years (and three of those franchises twice). Being waived or traded in season isn't a new concept to him, but the way it all went down in Sacramento still bugs Barnes.
On Friday, Barnes, now with Golden State, will get a chance to play the Kings for the first time since he was waived when the Warriors host Sacramento. Barnes was asked by reporters on Thursday what it will be like playing against his former team, and he didn't hold back in letting his feelings towards the Kings be known.
"I'm trying to kill 'em," Barnes said. "Plain and simple. Things didn't go well there. They're the enemy know, so we're trying to kill 'em. Beat 'em by 50."
Barnes wasn't happy with the way Sacramento treated DeMarcus Cousins — whose trade led directly to Barnes being released — and told the Sacramento Bee after his release that he was disappointed in the way everything went down with the Kings.
"It was frustrating because being back home and really taking pride in trying to put that team back on the map, and then just in a day's time you're no longer a part of the organization," Barnes said. "So it was kind of a rude awakening."
Since joining the Warriors, Barnes has averaged 5.8 points, 5.0 rebounds and 2.5 assists over 11 games, playing 19 minutes a game as a key reserve on the wing in Kevin Durant's absence. So, while Barnes may be frustrated with how things ended with the Kings, he eventually ended up in the best situation possible. That doesn't seem to change his feelings towards the Sacramento organization, and you can bet he'll be trying to give them a little extra on Friday night.