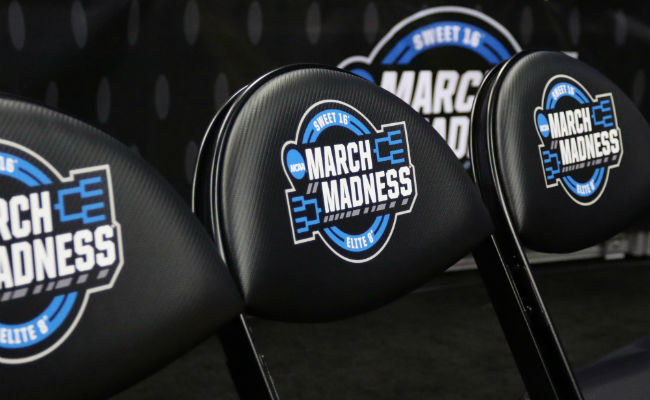 The NCAA is a billion-dollar not-for-profit institution that has some very specific rules about what the athletes that make them all their money can and cannot do. They can't, for example, sign autographs for cash and get paid to generate millions in revenue through the selling of ads and other corporate partnerships that the NCAA benefits from.
But sometimes there are perks. Free WiFi, for example, and the chance to get a decent education. An athlete's parents need to pay their own way to see them play in the NCAA Tournament, of course, but sometimes you can snag a keepsake at the tournament site and at least have some fond memories to associate with it.
The Wall Street Journal had a fun story about the various things NCAA athletes snag from venues, especially after their team gets knocked out.There is one bridge that's too far for the NCAA, though. That's right, the NCAA really doesn't want anyone taking March Madness logo rugs from locker rooms.
Ryan Cline, a guard for Purdue, tried to take a mat and didn't even make it out of the locker room hallway before NCAA officials stopped him and said the mats were off limits.
"I thought it would be a really cool souvenir to take home," Mr. Cline said. "But a security guard was like 'No, you can't take it. Somebody from Florida State tried to and we wouldn't let him.' "

An FSU official confirmed that the Seminoles were denied.

When Mr. Cline was asked on Friday if he would try to take a rug again after Purdue's Elite Eight game against Virginia, he laughed.

"That would be cool but I don't want to go 0 for 2," he said. "That would be a little embarrassing."
As the NCAA told the WSJ, players can take some signs and nameplates from locker rooms. But the mats are, for some reason, off limits.
"There is team-specific signage in every locker room that teams can take once they have finished playing at the site but we were clear that the rugs could not be taken," NCAA director of media coordination and statistics David Worlock told the paper.
What makes this story better is that one player seems to have made it out of the venue alive and carrying a rug, and he's willing to give it back to the NCAA if they forgo the outdated concept of amateurism and the idea of a "student athlete." Iowa's Jordan Bohannon replied to the initial WSJ with his terms made clear.
https://twitter.com/JordanBo_3/status/1112421166185136128
He wasn't alone, either.
It's an admittedly weird rule, and I'm sure there's a reason why those logo mats are so valuable. But what it comes down to is that the NCAA stubbornly enforces rules that seem completely arbitrary all the time. So it shouldn't be all that surprising, really.