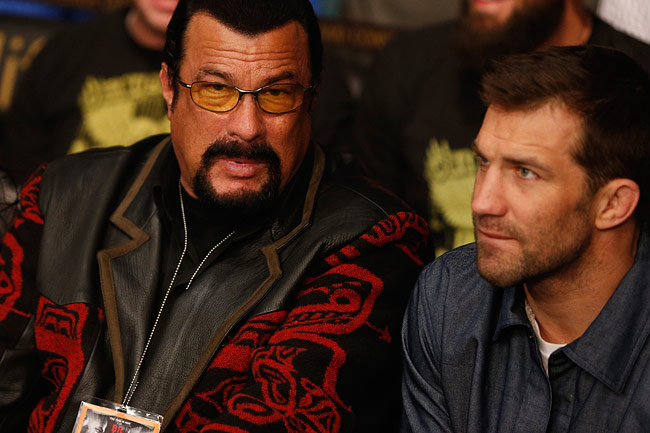 This morning a I awoke to a slew of emails about a sexual harassment and sexual trafficking lawsuit against Steven Seagal. I get all the Steven Seagal news almost as soon as it happens, thanks to a network of the like-minded I like to call The Kimono Railroad (formerly The Old Thunderbox Mountain Railroad). The links usually cited Fox News or the New York Daily News, regarding a story about a former Seagal assistant named Kayden Nguyen, who was suing Seagal for sexual harassment and sexual trafficking.
The name sounded familiar, and that's because Fox was citing a New York Daily News story from 2010. A story I remembered because it's amazing. If you'll remember, that's the one where Nguyen claimed  "she could identify a 'unique physiological reaction' that Seagal has to sexual arousal, which could be corroborated by the other 'attendants.'"
What an incredible picture that sentence paints. I imagine a 300-pound Seagal pawing at Nguyen like Jabba the Hutt while he caws like a bird and a team of stone-faced handlers silently await his ejaculate with white towels. Great story, but again, an old story. Nguyen had claimed Seagal had sexually assaulted her three times, then chased after her "with a flashlight with a gun attached to it" when she finally escaped.
Not much has been written about the Nguyen lawsuit since 2010, perhaps because Seagal hired Hollywood heavy hitter Marty Singer (past clients have included Bryan Singer, John Travolta, Quentin Tarantino, and, naturally, Bill Cosby). But it should be noted that Nguyen was far from the only accuser, and I thought this seemed like a great time for a refresher.
Seagal's ex-wife Kelly LeBrock said she was "constantly raped and abused my entire life," presumably also during her nine-year marriage to Seagal, and suggested people buy her book for details.
Then there was Ray Charles' granddaughter, Blair Robinson, who says she was assaulted by Seagal after meeting him at Ray Charles' funeral. (Of COURSE Steven Seagal was at Ray Charles funeral).
[after being hired as Seagal's assistant] Robinson said Seagal came to her room and immediately started to discuss the art of Japanese massage, which he explained would be expected as a part of her job. She became very uncomfortable as he began to demonstrate on her arm and shoulders and Robinson asked that he leave the room. [Bossip]
The "massage expert" thing seems to be Seagal's move, as Rob Schneider even mentioned it during a Howard Stern interview some years back:
[protected-iframe id="e3ccc14f00fc1f1ac5d9e49ec32ddd71-60970621-60061059″ info="//www.dailymotion.com/embed/video/x8s794″ width="650″ height="360″ frameborder="0″ allowfullscreen=""]
"Because I collect those Steven Seagal stories, they're like jewels. Like I love the Jaime Pressly one, where he tells her 'Please let me massage you, I'm an expert in shiatsu massage.' Next thing you know she's having her boobs grabbed on by him."
Jenny McCarthy even has a Steven Seagal story, as she explained in a 1998 interview:
"I go inside his (Seagal's) office, which has shag carpet and this huge couch, and he's by himself and says, 'Sit on my couch.'" She continued, "[He says] 'So, you were Playmate of the Year?'"

"Then he said: 'take off your dress,'" McCarthy continued. "I just started crying and said: 'Rent my Playboy video, you a*****e!' and ran out to the car."
Seagal was sued by another assistant in 2001, and was also the subject of a Penthouse feature by John Connelly in 1996 alleging all kinds of shady behavior. Connelly claimed to have interviewed six separate women who all alleged that Seagal had assaulted them.
…four female staffers resigned from the production of Seagal's Out for Justice to protest his harassing behavior, including a "sexual attack" on one of them. The actors alleged that Seagal tried to undress them during casting interviews and made other raunchy advances. ("When I was finally able to get him to stop, he told me I had the part," said one actor.)

One of the women is quoted as saying that Seagal frequently brushed up against women in his office. And a former housekeeper, Leah Bumgarner, alleges that Seagal "sexually attacked" her at his home, according to Connolly. Her credibility is somewhat clouded, however, because she subsequently pleaded guilty to possession of stolen property from his home. [EW]
If the housekeeper's credibility is in question, it should be noted that the other party in this story famously claimed to have invented the front kick, worked for the CIA, wears a bulletproof kimono, claims to be the reincarnation of a 17th century monk, and doesn't "keep track of space or time too well." I don't think we want to get into a he said/she said contest here.
So often we talk about Seagal being MMA's most famous groupie* or Vladimir Putin's best bud, it's easy to forget that he's also a total creep (ALLEGEDLY). At the very least, we can say for certain that he loves the poonani. That much is public record.
"Relax, babe. There's no reason to be so uptight, it's the 1500s now. I learned this tit massage from Kublai Khan."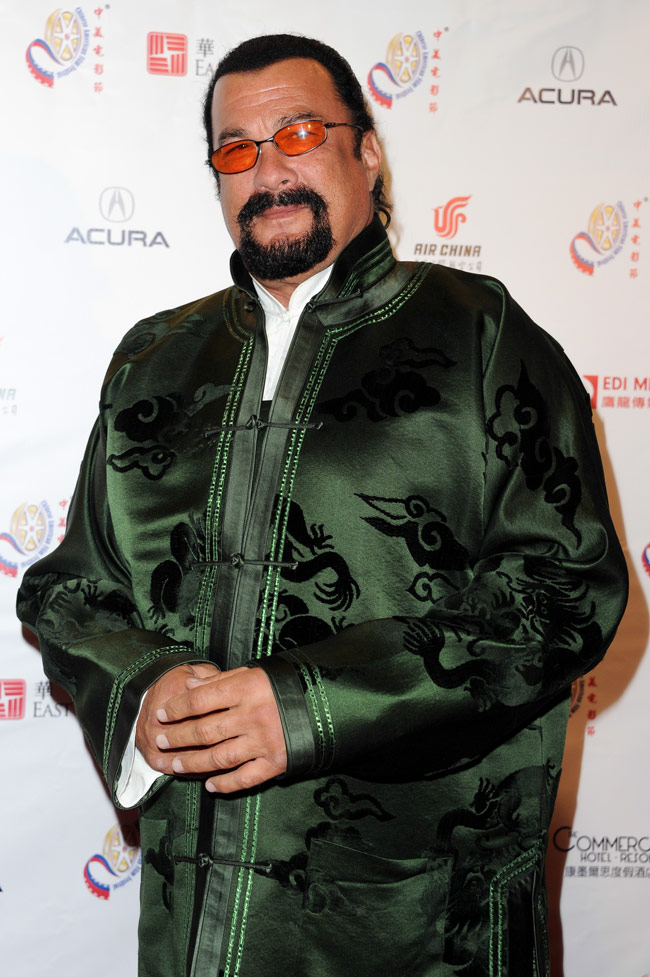 *Trivia for fellow MMA fans: According to MMA Mania, Seagal's current assistant is Justin McCully. Also known as the guy unmasked by Stephan Bonnar in probably the most bizarre MMA moment of the last decade.