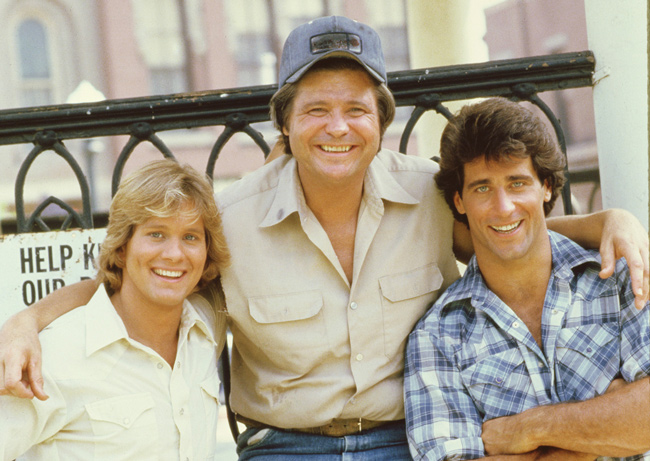 Scholars, historians, and governors have all weighed in on what we should do about the Confederate flag and the complicated history it represents in the wake of the Charleston shootings. But all that was moot until today, when 73-year-old actor Ben Jones, best known as mechanic Cooter Davenport on Dukes of Hazzard, finally broke his legendary silence on the matter, in an epic, all-caps Facebook rant that would've brought a tear to the eye of Confederate war hero Foghorn Leghorn, were he not long dead of dysentery in his giant rooster grave.
TO ALL OF OUR FRIENDS AND FANS FROM BEN JONES AKA "COOTER"
No one knows how to employ the royal "we" like a guy named Cooter.
I THINK ALL OF HAZZARD NATION UNDERSTANDS THAT THE CONFEDERATE BATTLE FLAG IS THE SYMBOL THAT REPRESENTS THE INDOMITABLE SPIRIT OF INDEPENDENCE WHICH KEEPS US "MAKIN' OUR WAY THE ONLY WAY WE KNOW HOW."
I had to cross check that to make sure he was quoting the Dukes theme song. It's not too different a sentiment from the Cheers theme, come to think of it ("makin' a way in the world today, takes everything ya got…"). Before you judge, imagine if that bar had been covered in Swastikas. You'd have a bitch of a time finding a symbol to represent the good times you had with Sam & Diane without offending people.
THAT FLAG ON TOP OF THE GENERAL LEE MADE A STATEMENT THAT THE VALUES OF THE RURAL SOUTH WERE THE VALUES OF COURAGE AND FAMILY AND GOOD TIMES.
Much like the Truck Nutz dangling from the hitch of my Vespa, the Swingin' Mussolini. They represent free love and keeping it real. Also, no dogs or Irish.
OUR BELOVED SYMBOL IS NOW BEING ATTACKED IN A WAVE OF POLITICAL CORRECTNESS THAT IS UNPRECEDENTED IN OUR NATION OF FREE SPEECH AND FREE EXPRESSION.
It truly is unprecedented the way a symbol of the Civil War has become so divisive. This flag brother shot brother over used to bring us together! Smh, friends. Smdh.
ACTIVISTS AND POLITICIANS ARE VILLIFYING SOUTHERN CULTURE AND OUR HERITAGE AS BEING BIGOTED AND RACIST. WE KNOW THAT THIS IS NOT THE CASE. AND WE KNOW THAT IN HAZZARD COUNTY THERE WAS NEVER ANY RACISM.
Were there any black people on Dukes of Hazzard? I honestly have no idea.
THOUGH THE FLAG HAS BEEN REMOVED FROM SUCH PLACES AS WALMART, TARGET AND AMAZON, IT WILL NEVER BE REMOVED FROM ANY OF OUR COOTER'S STORES AND MUSEUMS.
Yes, Cooter's Museums, plural. Mr. Jones apparently owns and/or operates three locations of "Cooter's Place" store/museums, in Nashville, Gatlinburg, and Sperryville, Virginia. Here's the 411 on the Sperryville location:
Cooter's Place in Sperryville Virginia is right up the road from the original store. "Cooters in the Country" will feature a General Lee, Miss Alma's Kitchen, Dukes of Hazzard Museum, "Cooter's Garage Band" and appearances from the man himself, Ol' Cooter (NOW SERVING BREAKFAST, LUNCH AND DINNER AS WELL AS ICE CREAM HAND SCOOPED OR SOFT SERVE)
That's right, hand scooped! We don't use robot arms like those city slickers. Now back to Ol' Cooter.
WE ARE ALL THE SAME GOOD PEOPLE TODAY THAT WE WERE LAST WEEK AND LAST YEAR AND WE ARE NOT GOING TO BE SHAMED INTO TURNING OUR BACKS ON OUR HERITAGE AND OUR CONVICTIONS.

WE ARE NOT RACISTS. WE DESPISE RACISM AND BIGOTRY. AND WE THINK THE PEOPLE WHO ARE CREATING THIS "CULTURAL CLEANSING" ARE THE REAL BIGOTS IN THIS STORY.
There it is. "Cultural Cleansing." That phrasing is no accident. These yankees are no better than those swarthy god damned Serbs or Turks.
WHEN WE SAY OUR FLAG STANDS FOR "HERITAGE, NOT HATE" AND "PRIDE, NOT PREJUDICE", WE MEAN IT. AND WE BELIEVE THAT OLD SAYING, "YOU CAN'T KNOW WHERE YOU ARE GOING IF YOU FORGET WHERE YOU CAME FROM."
"It's just like the Bible says, every time God welds closed a door to install a roll bar, he leaves open a window to jump through. VROOM VROOM VROOM Amen."
COOTER'S IS GOING TO CONTINUE TO SELL OUR SOUTHERN SYMBOLS AS LONG AS THERE IS A COOTER'S. I WILL FIGHT THESE PEOPLE UNTIL HELL FREEZES OVER, AND THEN I WILL FIGHT THEM ON THE ICE.
"I will fight them on ice so long it eventually becomes a sport! 'Hockey,' we'll call it, in honor of the loogies I hock on these PC bigots from the window of my muscle car!"
Incidentally, Ben "Cooter" Jones is a former Democratic congressman from the state of Georgia (1989 – 1993). True story.
On a serious note, I understand the Southern desire to celebrate their heritage, it's just a shame some think their only way to do it is with a symbol that, for most people, connotes treason and slavery. Why not come up with a new symbol that celebrates family and good times and tire swings, without those unfortunate associations? Here, I took a first crack at it:
These colors don't run. Or wear sleeves. Also, I swear I made this before I knew this existed.