–
Listen on the player above, or download as an mp3 here (right-click, save as).
Now you can also listen on Soundcloud or Stitcher.
As you may have noticed, we went a few weeks there without a new Frotcast. I apologize, but understand that all was due to travel, all of which in turn I undertook with the sole goal of providing you with yet more sweet, sweet #Content.
Thus this week, despite not being able to get together with the Frot cohosts, I did record a special edition Frotcast, (not) live from the Sundance Film Festival. In the first segment, I am joined by Jeff Bayer from Movie BS, with Bayer and Snider, and Dan Mecca, from The Film Stage. We chat about the Oscars and about Sundance. In terms of the latter, less about breaking down movies you won't get to see for six months, more about what it's like when 100,000 assholes from the coast cram into a tiny mountain town for a week. After that (starting at the 36-minute mark, to be specific), I have some excerpts from the audio versions of my interviews with Jack Black, who stars in The Polka King, and Brett Gelman, who stars in Lemon. If you miss Brendan, Matt Lieb, Bret, and Ben, you're not alone! I will get them on as much as I possibly can. Anyway, we'll be back to regular Frotcasting next week!
#Content
Intro
4:00 – Are we good with Mel Gibson now? Is all forgiven?
9:30 – We rate the free food and hors d'ouvres we gorged on at after parties for movies we may or may not have seen.
14:30 – Our bus encounter with David Arquette
36:00 – Jack Black interview
50:15 – Brett Gelman interview
DONATE on Patreon at Patreon.com/frotcast. It helps us keep the Frot ad-free. For just $10, Matt Lieb will sing you your very own Royalty Freestyle on the topic of your choosing.
EMAIL us at frotcast@gmail.com, LEAVE US A VOICEMAIL at 415-275-0030.
SUBSCRIBE to the Frotcast on iTunes.
ENGAGE with our #Brand
FilmDrunk/Vince Mancini on Twitter and Facebook
Jeff Bayer on Twitter
Dan Mecca on Twitter
Here's that ice Audi we were talking about.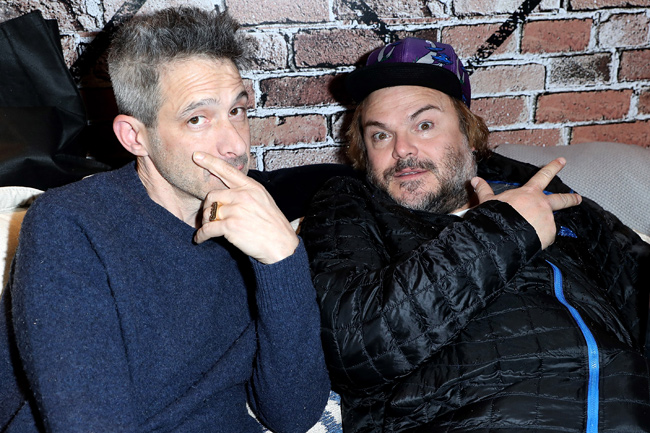 Jack Black and Ad Rock, the day of my interview (with me just out of frame).
Lemon director Janicza Bravo, with husband and Lemon co-writer Brett Gelman, the day of our interview.