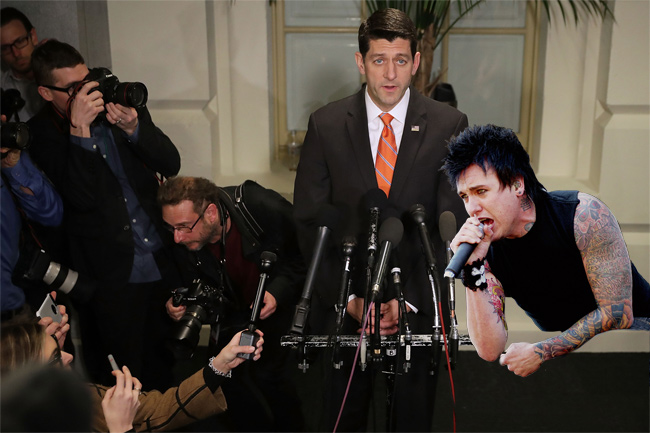 –
Listen on the player above, or download as an mp3 here (right-click, save as).
Now you can also listen on Soundcloud or Stitcher.
Anyone see that meme going around about Paul Ryan driving off listening to Papa Roach? Justin Halpern made that, as a joke, as a callback to an old story he told on the Frotcast, but everyone wanted to believe it so much that it quickly went viral. This week on the Frotcast, we talk to Justin about the origin and the aftermath, and what it's like having your dumb joke critiqued by the New York Times and the Washington Post, and being cussed out by an ethics professor. Comedians Allison Mick and Matt Lieb join Vince Mancini from FilmDrunk in studio. Other topics include Chappelle's specials (and possible problematicness), public shaming, and remembering Chuck Barris by watching Confessions of a Dangerous Mind.
#CONTENT
Intro – Matt discusses his slot machine app addiction and how it's related to his heroin addiction.
3:00 – Is Dave Chappelle problematic now?
25:00 – Enforcing the social contract and the ups and downs of public shaming
39:20 – Justin Halpern joins us to update us on the Paul Ryan/Papa Roach meme, and what happens when you tweet a funny fake thing and it goes viral.
1:28:00 – Talking Confessions of a Dangerous Mind
1:48:01 – Emails
DONATE on Patreon at Patreon.com/frotcast. It helps us keep the Frot ad-free. For just $10, Matt Lieb will sing you your very own Royalty Freestyle on the topic of your choosing.
EMAIL us at frotcast@gmail.com, LEAVE US A VOICEMAIL at 415-275-0030.
SUBSCRIBE to the Frotcast on iTunes.