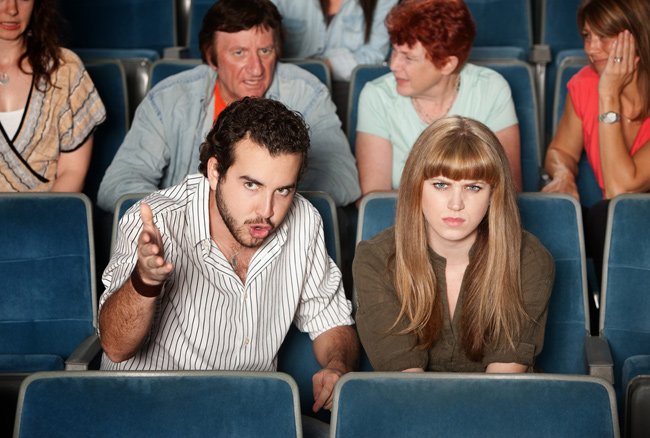 The Hollywood Reporter recently asked a panel of anonymous "studio heads, marketing chiefs, directors, screenwriters and a slew of industry types" to rank their favorite New York film critics. On the one hand, it doesn't seem very scientific, but on the other, MEEE-YOW, FIGHT FIGHT FIGHT FIGHT! I always enjoy hearing business-side Hollywood types, who are so bad at reading that they've long preferred buying pitches to actual scripts, try to critique critiques of their product. Anything that isn't mindless cheerleading inevitably becomes "snark" (as a producer called the New York Times' Manohla Dargis) and a dude probably responsible for Paul Blart 2 calls the Wall Street Journal's Joe Morgernstern "too highbrow." This at a publication that uses will.i.am in its ad campaign.
You can see the whole ranking here, but a few gems:
2. Peter Travers, Rolling Stone
"He gives the nicest reviews — he's such a cream puff," gushes an indie exec. "You can put him in all your ads — he gives quotes in advance." Says a studio publicity chief, "He's the one we all chase, along with Richard Corliss."
As I've written, I grew up reading Travers, who used to be one of my favorites. These days, he's best known as the guy who can't stop getting floored by stuff. Sad.
9. Lou Lumenick, New York Post
…A studio exec gives him a thumbs-down. "F— that f—er," he says.
Predictably, Rex "No Fat Chicks" Reed ranks last (more of his greatest hits here). If you're wondering where some of the even more notorious shills are (Pete Hammond, Shawn Edwards), well, they don't work in New York and so they don't count.
But that still leaves R. Kyle Smith and of course, our buddy Armond White. God only knows why he didn't make the list, but I went ahead and imagined his response to the snub: THE VERTIGINOUS NINCOMPOOPERY AND SHEER DYSLEXICALITY INHERENT TO THIS CRETINOUS PROFESSION LEAVES THEM ILL-EQUIPPED TO DEAL WITH THE MAGNITUDINOUS TRUTH BOMBS THIS REVIEWER AVAILS TO DECIMATE THEIR BILGE, BALDERDASHERY, AND BUNKTILIOUSNESS! AO SCOTT IS A FATUOUS PALAVER MERCHANT UNFIT TO LATHER MY SOCKS! MY PERFIDIOTIC SO-CALLED "COLLEAGUES" ARE NO MORE CAPABLE OF FATHOMING THE GREATNESS OF TRUE MASTERWORKS LIKE JACK AND JILL OR MORTDECAI THAN OF A BLIND POLAR BEAR FINDING ITS MATE'S GLUTINOUS BIRTH CREVICE AMIDST AN ICE BLIZZARD. LISA SCHWARTZBAUM IS A HUMAN BIDET! ARMOND OUT.