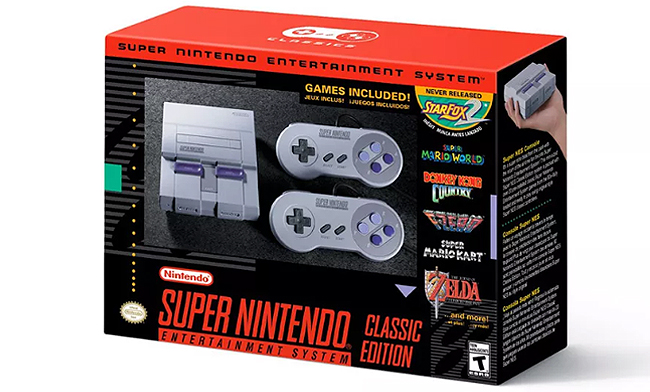 While Nintendo insisted there wouldn't be any scarcity issues with the SNES Classic, that was, of course, incorrect. Just like the NES Classic, and just like everything else that has happened with Nintendo's slew of mega-popular, super-in-demand items from the past few years, there is nowhere near enough product to meet demand. Ever.
And restocks of SNES Classic have been selling out just as soon as they've been posted, but if you act EXTREMELY QUICKLY, you can possibly score one from the latest Gamestop restock. Click here to see if you can still buy one of the mini-consoles.
This bad boy is, of course, loaded with a whopping 21 games, and in case you needed to read the names of those games to incentivize you, here you go:
– Contra III: The Alien Wars
– Donkey Kong Country
– EarthBound
– Final Fantasy III
– F-ZERO
– Kirby Super Star
– Kirby's Dream Course
– The Legend of Zelda: A Link to the Past
– Mega Man X
– Secret of Mana
– Star Fox
– Star Fox 2
– Street Fighter II Turbo: Hyper Fighting
– Super Castlevania IV
– Super Ghouls 'n Ghosts
– Super Mario Kart
– Super Mario RPG: Legend of the Seven Stars
– Super Mario World
– Super Metroid
– Super Punch-Out!!
– Yoshi's Island
Godspeed to you, and safe shopping. We hope that F-Zero is everything you remember it being.