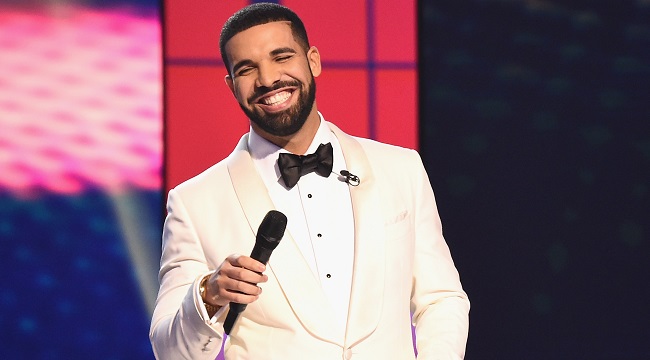 Although Drake's new album, Scorpion, has only been available on Spotify for around 12 hours, it is already smashing through the platform's standing streaming records, amassing over 10 million streams per hour. While some wondered whether his recent bout with Pusha T had dampened expectations, it appears the revelations the GOOD Music rapper dropped about Drake's then-secret son only piqued his audience's curiosity.
Of course, it didn't hurt that only hours before the official release, Drake himself released the intriguing tracklist which included features from both Jay-Z and Michael Jackson. Combined with the rampant speculation that Drake would have to address the ongoing war of words with Pusha T and his GOOD Music label head Kanye West, fans couldn't wait to dissect and analyze the music for new nuggets of information, hints of the retaliation record that J Prince claims to have had shelved, and of course, the ever-popular profile bio quote from Drake's confessional lyrics.
As it happens, the listed features weren't the only things to get excited about. Drake's small army of producers have a penchant for surfacing unconventional songs for use as atmospheric samples, and Scorpion indulged that fancy in spades. Not only was Nicki Minaj's infamous "Boss Ass Bitch" performance from Powerhouse 2014 mined for material, Drake's beat makers also showed love to New Orleans with an appearance from former Cash Money Records rapper Magnolia Shorty and up-and-coming, Quality Control-signed, Miami rap duo City Girls.
Drake is well on his way to breaking even more Spotify records, something he's had a habit of doing since streaming became the primary form of music consumption in recent years. His last project, the playlist More Life, surpassed over a billion streams within a month of its release. At the pace people are listening to Scorpion, it seems safe to say that Drake will remain the Spotify king a little longer — and possibly the Apple Music one, as well.