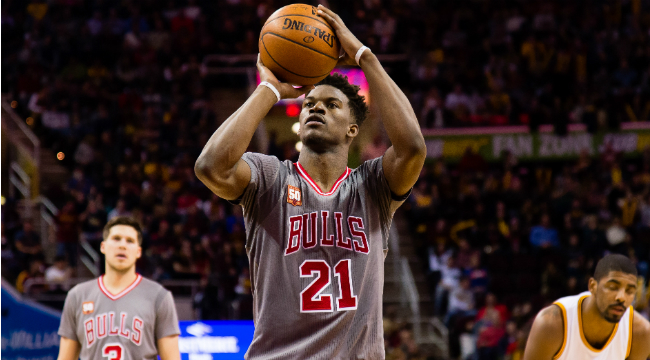 The NBA Draft Lottery is just around the corner, and for teams like the Sixers and Lakers, it's a time of anxious hope, as all the losing they did this past season might just turn into the first overall pick. On the other end of the spectrum is the Chicago Bulls, who, barring an amazing twist of fate, will show up to collect their 14th pick and shake some hands. But the face of the franchise on that day will be significant, because it's scheduled to be Jimmy Butler, according to the Chicago Tribune.
That may come as a bit of a surprise, considering Butler has been surrounded in trade rumors intermittently since the February deadline this past season. Having him as their representative is a very public move by the Bulls to reassert his importance to the team and his likelihood to stay. After all, it wouldn't do to trade the literal face of the franchise weeks after parading him in front of Adam Silver and fans at home.
Of course, if Butler really is a Bull for the long haul, the questions about his ability to play with Derrick Rose remain. If the choice is Butler or Rose and it's been made in favor of the former, Rose won't command nearly the same sort of haul; although, he'll be an unrestricted free agent next summer, and he could be enticing to a team with a hole in the backcourt who needs a band aid at the deadline. If their problems were ego- and contract-related, as the rumors intimated, maybe an offseason of soul-searching will do them both good.
(Via Chicago Tribune)