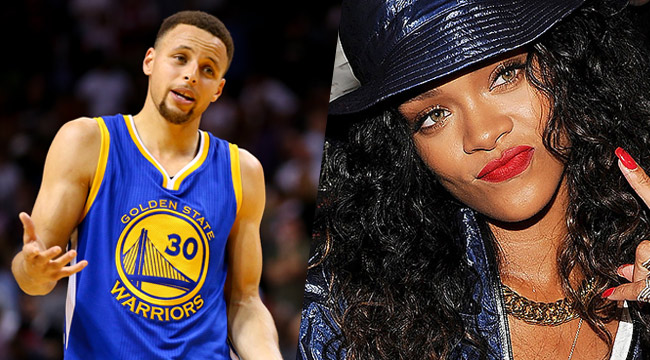 Badgalriri once again lived up to the self-given moniker on Sunday night. Not one to shy away from controversy, (looking at you "Bitch Better Have My Money" music video), Rihanna didn't hesitate in offering her opinion in the great LeBron James vs. Steph Curry debate.
Following the Golden State Warriors' loss to the Cleveland Cavaliers in Game 7, Rihanna took to social media to support the Cavaliers' power forward. In a few posts to her famed Instragram, Rihanna praised LeBron while throwing some shade at Curry.
The first photo shows Curry with pursed lips and a disappointed gaze as he stares off into the distance with a caption reading '"Ballin bigger than Lebron" they said." The quote, taken from her own lyrics from "Bitch Better Have My Money" in conjunction with the image, raised some eyebrows on social media due to its blatant #shadiness.
Follow up posts (sandwiching an image of the songstress laying out in a red bikini with LeBron's number written in sunscreen on her stomach) further demonstrate her #TeamLeBron position. The first shows James holding up the NBA trophies sporting a winning grin joined with the caption "Who y'all think y'all frontin' on?" (another "Bitch Better Have My Money" lyric) along with the hashtag #KingJames.
Finally, if you at this point had any doubt where she stood in her basketball fandom, she lets you know with one more Instagram post. Along with a slew of emojis and copy reading "Bae! Lol" the shaded out Grammy Award winner looks up at LeBron, trophies in hand, with a big goofy grin.