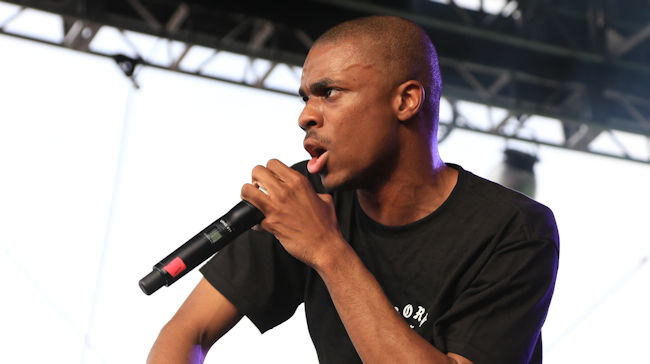 Vince Staples has never been one to hold back about his opinion on pretty much any subject, so when the subject of R Kelly came up recently during an interview he took part in while at Coachella he kept it as real as it gets. "He's a f*cking child molester," Vince bluntly stated to the segment's host Nadeska Alexis, who tried several times to shut down the conversation, saying, "We can't ever talk about this guy."
Undeterred, Vince continued. "He's a child molester, he pees on people and he can't read or write and he didn't go to jail," he said. "I'm a good person, R. Kelly is a piece of sh*t."
R Kelly's extensive history of sexual misconduct is a matter of intense public scrutiny and conversation and continues to be nearly ten years after he was acquitted during a trial over child pornography. In a recent, lengthy profile for Buzzfeed, Chicago music journalist Jim DeRogatis, who has been pursuing the R. Kelly beat for years, detailed what he calls a "sex cult," that the singer operates out of his home in Atlanta.
According to DeRogatis, who spoke to those familiar with the situation, Kelly allegedly, "controls every aspect of their lives: dictating what they eat, how they dress, when they bathe, when they sleep, and how they engage in sexual encounters that he records."
You can watch Vince's full, unfiltered thoughts about R. Kelly in the video above.