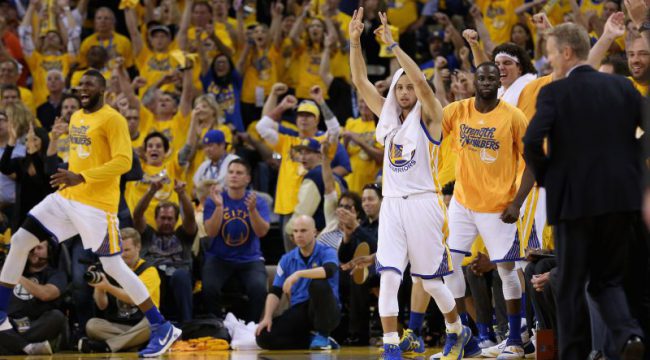 The Western Conference Finals between the Golden State Warriors and Oklahoma City Thunder have been compelling — although, at times, one-sided — and incredibly fun. Even as someone who doesn't care all that much about the NBA, this has been an enjoyable product.
But something this great comes with a price, and the cost of tickets for Game 7 at Oracle Arena is evidence of that.
According to ESPN sports business reporter and professional brand fluffer Darren Rovell, the average cost of a ticket ($960) for Monday's showdown is the second-highest for a Game 7 over the past five years, trailing Game 7 of the NBA Finals between the Heat and Spurs in 2013 ($1,346).
We all know what led up to that Game 7, too, and how the Spurs still made it a game.
This year, the Warriors put their few remaining tickets on sale Sunday and they were gone in five minutes.
Even crazier, two floor seats sold for $29,000 each. It's understandable. If you're a tech billionaire and you've poured your heart and soul into the Warriors since you discovered them 18 months ago, you can't put a price on an experience like this.
But in reality, if you're a Warriors fan, this is probably a safe investment. The Thunder let the series slip away in cringeworthy fashion in Game 6, and the Warriors are probably going to step on their throats in Game 7. But if the Warriors lose and you bought courtside seats, you basically paid someone's yearly salary to have your heart ripped out by Kevin Durant and Russell Westbrook.
(Via ESPN)