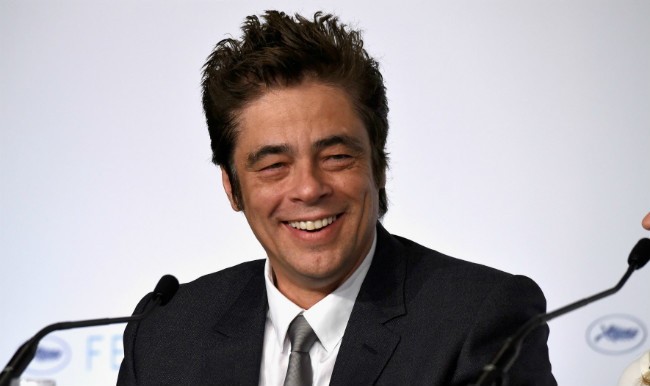 Back in May, we learned Benicio del Toro's character in Star Wars: The Last Jedi is "a 'shady character' of unclear allegiances… who goes unnamed in the film but is called DJ by the filmmakers." A new official description from Lucasfilm pegs him as "an enigmatic figure whose tattered, threadbare clothes and lackadaisical attitude conceal a sharp mind and expert skills." (That's good casting.) There's even a picture of del Toro dressed as his ambiguous character which you can view here. Now we know a little more about "DJ" from an interview with co-stars John Boyega (Finn) and Kelly Marie Tran (Rose) printed in Entertainment Weekly.
"We just need a codebreaker and he's the best in the galaxy. Unfortunately, he's very dodgy and only in it for financial gain. He doesn't fight for any side," Boyega told EW. This jibes with del Toro's vagueness in interviews, where he's said his character is "like a villain" ("es como el villano") but also said, "I don't know if he's a villain."
Boyega revealed more about del Toro's character to EW: "He has distinct opinions. The Resistance bombs the First Order one day, the First Order bombs the Resistance on another. It's an ongoing war that will never end. For him, he's trying to benefit off of that — which doesn't make him the person you want to trust."
In other words, he's a Lando-esque character, and EW's Anthony Breznican speculates he may be a "slicer" (hacker). That would explain why Finn (Boyega) and Rose (Tran) enlist his help for a mission at Canto Bight, a luxurious gambling destination.
Tran also described the character's vibe, saying "I felt like there was a tiger in the room, and I always had to be watching. Like an animal, at any moment he could do something, and I didn't know what." At least we think she was describing the character. She could have just been describing del Toro. He's one of God's own prototypes.
(Via Entertainment Weekly)