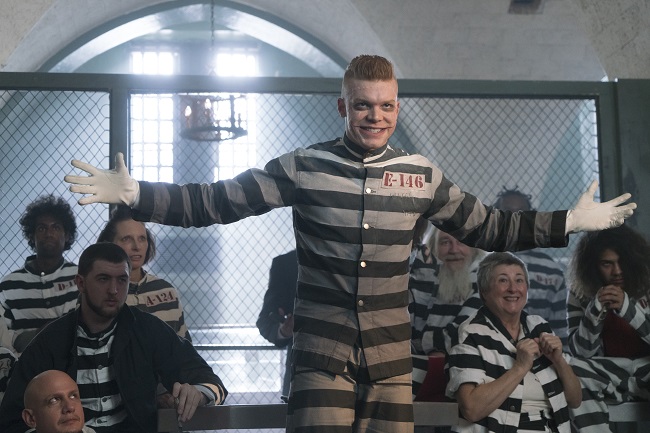 Gotham Season 4 is finally back, and it sounds like it's going to get even more bonkers. Gotham executive producers Danny Cannon and John Stephens teased the rest of the season during an episode of DC All Access. Cannon gave a cryptic answer about maybe-Joker-maybe-not character Jerome Valeska (Cameron Monaghan), saying, "We will see a conclusion to that character. Or is it a new beginning?" (Gotham, I will fight you.) Meanwhile, Stephens revealed what Jerome is plotting. He said this about seven and a half minutes into the episode:
"Jerome has a plan for Gotham, and so he wants to get out into Gotham and make the asylum that is Arkham Asylum be reflected in Gotham as a whole. He can't do it himself, so he has to put together his own Legion of Horribles, which includes Penguin as his right hand, and then all these other characters who we know from the rogues gallery: Scarecrow and Jervis Tetch, who's gonna come back as well, Firefly, Freeze. They sit around a table much like this one where Jerome can sit at the head of it, and we have his band of terrible people."
As We Got This Covered points out, that sounds an awful lot like this panel from Batman: The Long Halloween, even though the cast and crew of this show keep saying Jerome is not the Joker: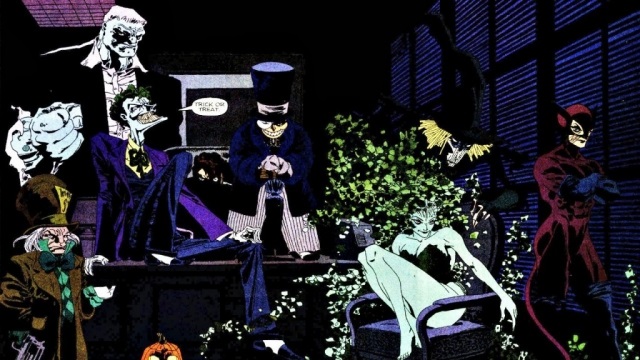 If that isn't self-referential enough, Fox also released some promo photos that show Captain Gordon with a mustache (!).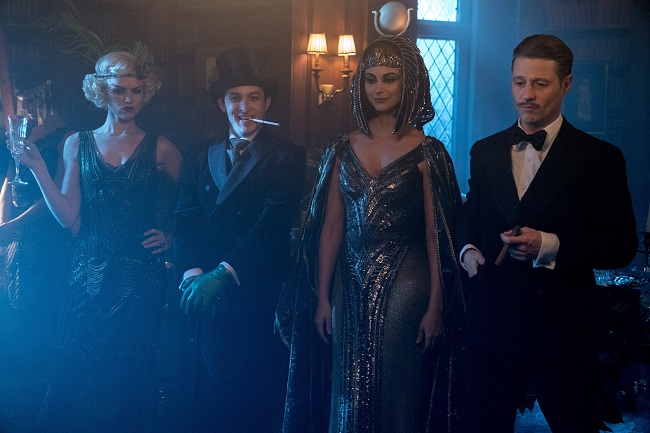 Sure, it's just a fake mustache for a costume party (and not the first time Ben McKenzie has donned a fake mustache for a meta costume), but we appreciate a good joke. Speaking of laughing, Fox released a synopsis and promo for tonight's episode:
TRY LAUGHING NOW ON AN ALL-NEW "GOTHAM" THURSDAY, MARCH 8, ON FOX
Ivy (guest star Peyton List) tracks a secret project on which Wayne Enterprises is working and begins to target anyone that can give her information. Meanwhile, Jerome (guest star Cameron Monaghan) becomes obsessed with Penguin in Arkham. Also, Gordon begins to second guess his deal with Sofia and an unsettling dream sequence shakes up Bruce in the all-new "A Dark Knight: A Beautiful Darkness" episode of GOTHAM airing Thursday, March 8 (8:00-9:00 PM ET/PT) on FOX.
In other words, don't expect to see the Legion of Horribles come together for awhile. Penguin isn't even on board yet.
(Via DC All Access, We Got This Covered, CBM, and FOX)