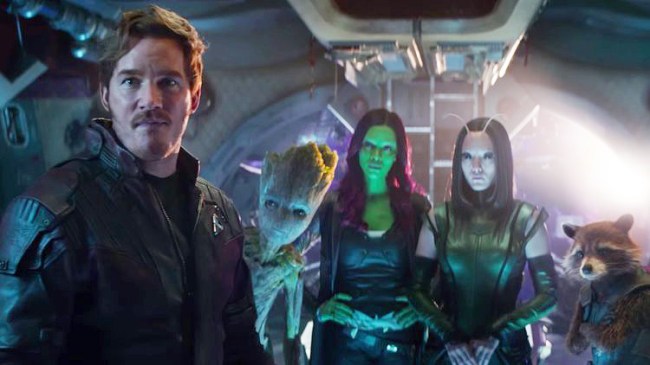 [Spoilers for Avengers: Infinity War below]
Guardians of the Galaxy Vol. 2 made more money and was as well received as the original Guardians of the Galaxy (all thanks to the comedic dream team that is Drax the Destroyer and Mantis, who need a spinoff). Therefore, based on this not-at-all flawed logic, Guardians of the Galaxy Vol. 3 will become the highest-grossing film in the series… but will it be as good? Following the universe-disrupting events of Avengers: Infinity War, the Guardians team is maybe (but probably not) down Star-Lord, Groot, Drax, and Mantis, and more likely, Gamora, who was killed by Thanos to acquire the Soul Stone. Let's say that last death sticks: can Guardians of the Galaxy Vol. 3 exist without a key Guardian?
Here's one way how, courtesy of Chris Pratt.
In an interview with MTV on the red carpet of [the MTV Movie & TV Awards], Pratt was asked about Star-Lord and the rest of the Guardians' future in the franchise. While the actor had been doing a great job dodging spoiler questions, when the subject of Gamora's death possibly factoring in Guardians of the Galaxy Vol. 3, he raised an interesting idea saying that the threequel "might take place in the past." (Via)
That would skirt around the "a human, a moody tree, a destroyer, and an insect lady are dead" dilemma (assuming Avengers 4, which comes out a year before Guardians Vol. 3, doesn't take care of the issue first). But there's one problem: writer and director James Gunn revealed on Twitter that "Vol. 3 will take place AFTER Avengers 3 & 4." He also said that Guardians, Vol. 3 "will help to set up the next 10, 20 years of Marvel movies," which would be hard to do if the film was set in the past. But if it means another decade of Rocket Raccoon being mistaken for a puppy, I say: who is Gamora? (Why is Gamora?)
(Via ScreenRant)